The Webby Awards Online Film & Video awards show was held last night in New York to cap off the first ever Internet Week, and it was the kind of event that forced you to ask yourself, "Where have I been for the past year?"
The Webbys, which were created in 1996 to recognize the best of the web, are best-known for the fact that award winners are restricted to five-word acceptance speeches, forcing even the most articulate recipients into acrobatic and often hilarious attempts to be elliptical and concise. Competition for the best line of the night was intense (see our list of favorites below).
Alex Albrecht set the tone when he came on stage in his boxers to accept the People's Voice award in the Technology category for "Diggnation," and asked the hushed audience, "Has anyone seen my pants?"
David Wain who won in the Comedy: Long Form or Series category for "Wainy Days" (which he described as an "only barely fictional recounting of my life as a single man in Manhattan"), managed to dodge the challenge of packing the funny into just five words by saying, "Well, well, well, well, well."
Two special awards were handed out. SNL creator Lorne Michaels accepted the "Film & Video Lifetime Achievement Award" by saying "Five words are not enough," and director Michel Gondry, who was recognized as the "Film & Video Person of the Year," stayed true to his eccentricities when he accepted the award by saying, "Keyboards are full of germs."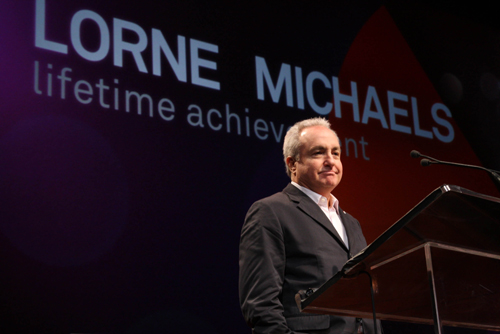 Comedian and actor Judah Friedlander emceed the event, and wore a black suit and tie, as well as a home-made "Webbys" trucker hat. Friedlander said before the show that he'd been working on computer jokes (he was spotted testing some new material Friday night at Rififi, an East Village comedy haunt). He showcased some of his own work, dusting off a short he made 20 years ago when he was a film student, called "Aaron Acne and His Uncomfortably Colossal Zit." He also took a swig from what looked like a flask when the video came on the main screen.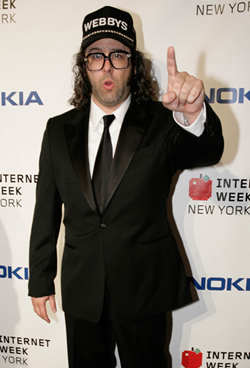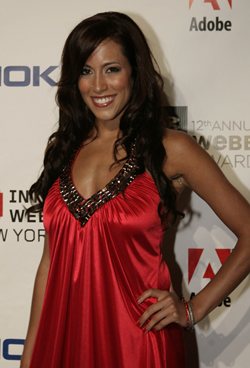 The Webby nominees and award-winners are chosen by the 550-member International Academy of Digital Arts and Sciences (Huffington Post co-founder and publisher Arianna Huffington is a member). Almost 500,000 people voted for the People's Voice awards, which accompanied the Webbys in each category. Professional work from the likes of the New York Times, PBS and the Onion was presented alongside amateur viral videos such as "Chocolate Rain" by 26-year-old Tay Zonday. Before the show, Webby executive director David-Michel Davies told me part of the goal of the awards is to honor the greatest on the web while "keeping in the spirit of the Internet," which meant striking a balance between humor and gravitas, professionals and amateurs.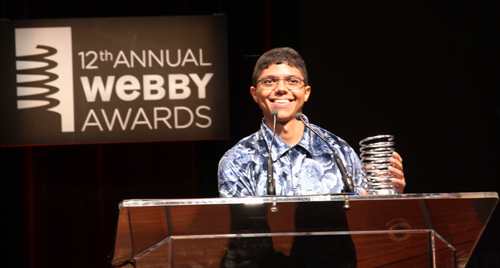 Tonight, the Webby's continue with a gala celebration hosted by SNL head writer Seth Meyers to honor recipients in hundreds of other categories for websites, interactive advertising and mobile. Stephen Colbert will be honored with a "Webby Person of the Year" award and Will.i.am will be recognized as the "Webby Artist of the Year."
Our favorite 5-word acceptance speeches (in no particular order):
Coney Island: An Uncertain Future -- Getty Images (Webby/Documentary: Individual Episode):
The revolution will be webcast
Diggnation (People's Voice/Technology):
Has anyone seen my pants? [came on stage in boxers]
First Light Movies (Webby/Student):
NYU full scholarship? Call me
Onion News Network (Comedy: Individual Short or Episode, Best Writing, News & Politics: Series):
Julie Ruth Smith----will you...?
Thank you for this Pulitzer
Together we'll make reading obsolete
Michel Gondry (Webby Person of the Year):
keyboards are full of germs
Mike's Got Mail -- Discovery Channel (People's Voice/Reality):
Well, hard to follow that
Frugal Traveler: American Road Trip -- New York Times (Webby/Travel):
Please don't climb our building
You Suck at Photoshop on My Damn Channel (Webby/Comedy: Long Form or Series):
We're auctioning Word 5
The Burly Sports Show (Webby/Sports):
You like me, you really...
Richter Scales (Webby/Viral):
Video? Check. Webby? Check. Profit?
Chocolate Rain (People's Voice/Viral):
Contact me for voice work
The West Side (Webby/Drama: Series):
Feeling lonely now, lonely girl?
Lorne Michaels (Film & Video Lifetime Achievement Award):
Five words is not enough
FOLLOW HUFFPOST