Last night, CNN hosted a screening of "Black In America," the four-hour documentary focusing on what it means to be black and living in America today, as part of a family, the black community and the larger national community, and the hardships being part of the former have entailed in being part of the latter. CNN anchor and special correspondent Soledad O'Brien, who comes from a mixed-race background (her mother was a black Cuban, her father Australian), has been working with her team on the project for the last 18 months, and it is scheduled to air on July 23rd and 24th on CNN. Last night's partial preview screened before an overflow audience in the Time Warner Center (literally, there was a separate room set up because the TWC theater was full, even for standing-room only).
"The Black Woman & Family" airs on July 23rd, the first of two parts, and looks at single parenthood among black families, black women in the workplace, and the effects of HIV/AIDS on black communities. "The Black Man," which airs on July 24th, examining issues like educational disparities between blacks and whites, black men and fatherhood, and high rates of incarceration for black men. No doubt there are many correlations between the two parts. "The Black Man" also traces the stories of some graduates of Little Rock, Arkansas' Central High School — Class of 1968, the year that Martin Luther King was assassinated.
One of those black men is close to an important figure in the documentary, and black America: Professor Michael Eric Dyson, well-known scholar, author and public intellectual. Last night's preview screening included a joint interview with Dyson and his younger brother, Everett — which took place in the prison where Everett is in year 19 of a life sentence for murder. (Both Dysons maintain Everett's innocence.) The juxtaposition of these two brothers — one at the heights of success and contribution to society, the other in a prison jumpsuit — was truly jarring, and the fact that Professor Dyson came out looking like the exception rather than the rule was very sobering.
Afterward, O'Brien took the stage for a lively question-and-answer period (the crowd was a sea of brown arms raised in the air), and took some great and thoughtful questions about what was next, and all the issues four hours couldn't even get to (one woman asked about "Africa and its diaspora" and the tension between Africans and African-Americans, which the woman said was palpable "even when I go to braid my hair in harlem"). O'Brien lamented all that had been left on the cutting room floor — "you could do four hours just with Professor Dyson" — but said that it was her job to continue to pursue such stories (she described her job as "undercovered in America").
But this was, for me, the most shocking thing I heard her say, emblematic of the stark difference between being black and being white. O'Brien said that the one thing she kept hearing in her interviews, across geography and the socioeconomic spectrum, was parents sitting their 11 and 12 year old sons down to tell them what to do when they get pulled over by the cops. Watch here:
Hard not to think of, say, Sean Bell watching that. Pretty sobering.
The other sobering thing was hearing the harshness in O'Brien's tone after a final questioner voiced outrage over the New Yorker cover. O'Brien basically said, well, stand up and be counted — make your outrage known, organize, stand up for what you believe in and what you want. Said O'Brien: "If there was one lesson learned through Katrina, it's that no one is coming to save you." Wow.
On to lighter topics! The reception afterward was delightful and everyone was all smiles as servers passed trays of delicious samosas, grilled shrimp and dipping sauce, chicken quesadillas, spinach-and-cheese mini-quiches, mini-burgers and mini-crab sandwiches. Oh and battered mushrooms. Mmm. We have pics below, from the party and the doc, but in the meantime, here's who was a-mingling, in no particular order: actress (and Oscar nominee) Cicely Tyson, academic Cornel West, activist Malaak Compton Rock, wife of Chris, Bishop TD Jakes, Time Warner CEO Dick Parsons, CNN prez Jon Klein, Oprah pal Gayle King, Essence exec editor Angela Burt-Murray , CBS News correspondent Michelle Miller, CNN arts and culture correspondent Lola Ogunnaike, NBC's jolly "Today" show co-hostess, Hoda Kotb, Abyssinian Baptist Church pastor Dr Calvin Butts, actresses Lynn Whitfield (the Josephine Baker Story) and Janet Hubert-Whitten (Fresh Prince of Bel-Air - "Oh, Philip!"), author/former CNN producer Jim Miller, who co-wrote "Live From New York: An Uncensored History of Saturday Night Live," Essence Communications president Michele Ebanks , TVNewsers Chris Ariens and Steve Krakaeur, plus author/commentator Keli Goff and FishbowlNY co-editor Glynnis MacNicol, aka ETP's dates. We roll with a posse, yo.
Photos below! All photos taken by Rachel Sklar unless otherwise noted. Yes, I bolded myself.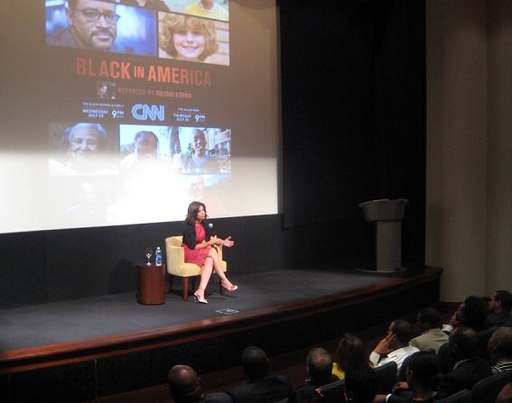 Soledad on stage. She'd come straight in for this from vacation (she has four kids) and her lovely ensemble was a last-minute pickup at Hugo Boss in the Time Warner Center. The shoes are Miss Sixty and very comfortable, just so you know. Wish we had a close up, the shoes were sweet.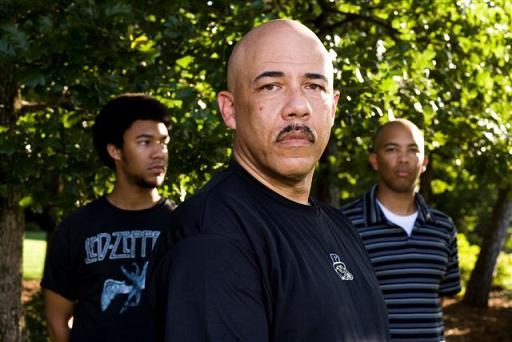 James "Butch" Warren, from Little Rock Central High School, Class of 1968, and his sons, Justin and Jonathan. Courtesy of CNN.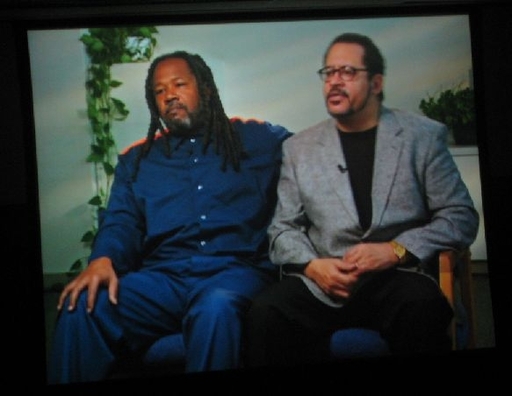 Michael Eric Dyson and his brother, Everett, being interviewed in the prison where Everett is serving a life sentence for murder. Dyson hypothesized that the differences in their fortunes might be partially attributable to their difference in skin color.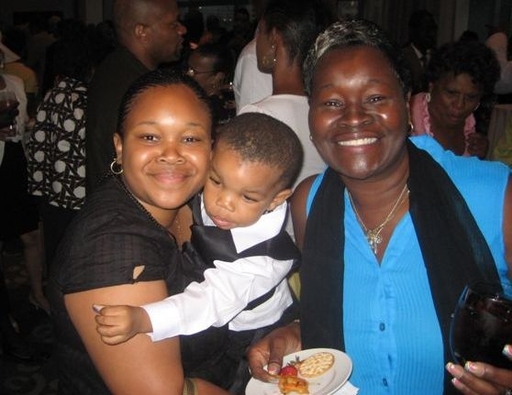 Nya Buckley, featured in "The Black Woman & Family" as an 18-year-old single mother who had finished — and done well in — high school but could not go to college because she couldn't afford daycare. Since then, the money for daycare has been donated and Nya is on her way. Her little bundle of cuteness was very well-behaved, dressed up in his little suit. Aw.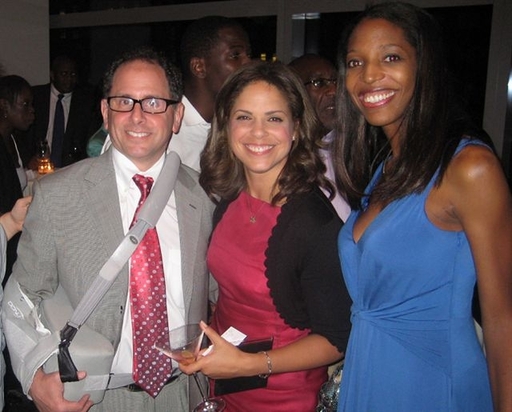 Jim Miller, Soledad and Keli Goff. The contraption on Jim's arm helps him recover from recent surgery; still, somehow he managed to make sure we all had drinks. It was much appreciated; we needed both our hands to grab at appetizers.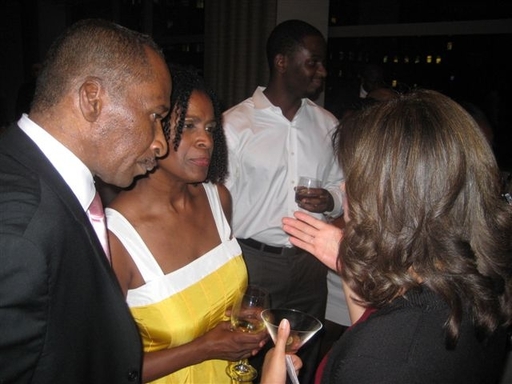 Janet Hubert-Whitten chats with Soledad; alas, Alfonso Ribiero was nowhere to be found.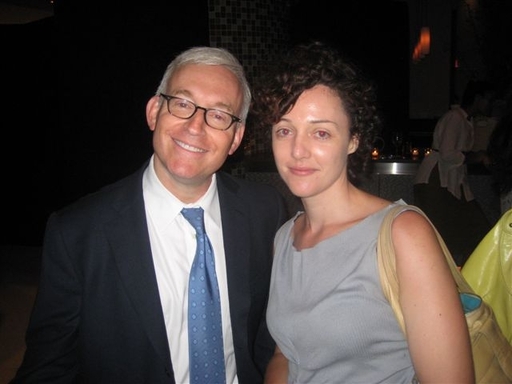 Jon Klein and Glynnis. Klein thought he looked "goofy" in this photo, so I took another one. Did that mean I wasn't supposed to post this one? Oops.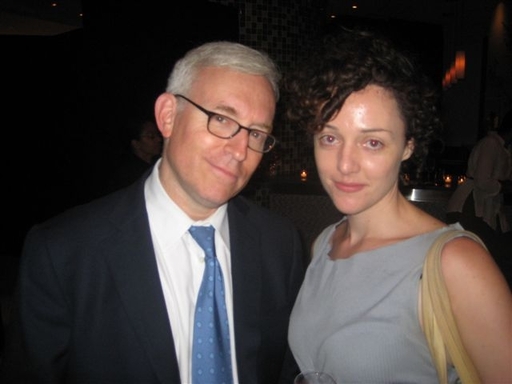 Here they are looking "serious." Wow. What gravitas! We suggested to Klein that he was now qualified to helm a network newscast.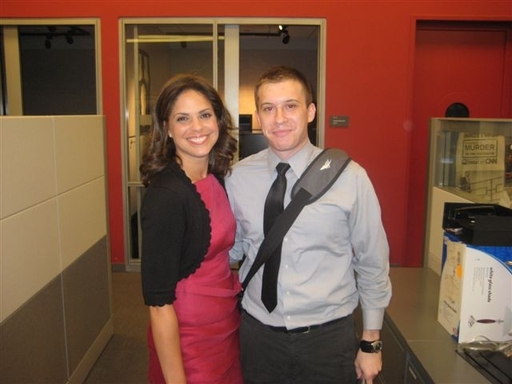 After the party it's the after-party! Somehow we ended up on the 4th floor, where PR lives (it felt slightly illicit, reminding me a bit of this). Actually, CNN PR director Jennifer Dargan was giving us press preview DVDs, and then we ran into her cohorts Christa Robinson and Barbara Levin with Soledad and Lola Ogunnaike, which we can totally spell, no prob. (The Kinks taught us, after all.) Soledad met Steve K (his nom de blog), and gave him a big hug ("I love TVNewser!") which was very cute, and we snapped the moment for posterity. And for Steve.