The political interests of the Floridian McCain fundraiser who bundled money from a strange cast of characters extends far deeper into the federal government than previously known.
Harry Sargeant, who has raised more than $500,000 for the McCain from a host of unlikely donors, owns a refinery and fuel supply company that has spent large sums of money lobbying the government since 2000. Moreover, in 2006 the company, Trigeant Petroleum, brought on board a lobbyist with strong connections to McCain in an effort to win congressional support in its fight over a terminated contract with the Department of Defense.
It could not be immediately determined whether McCain or any other member of Congress intervened on Trigeant's behalf. The Arizona Republican's office did not return request for comment. The company ultimately succeeded in settling its suit with DoD for several million dollars. But the widening extent of Sargeant's business interests adds another layer of intrigue to concerns that he was bundling cash for the presumptive Republican nominee in hopes of future political favors.
"This bundler certainly is someone who wants to have a president on his side," said David Donnelly of Campaign Money Watch. "He has a significant contract with the Department of Defense and the Pentagon and needs elected officials to listen to him. That's why he hires lobbyists and raises money for politicians like John McCain."
Started by Sargeant in 1985, Trigeant Petroleum quickly became a player in the energy supply industry. In April 2004, the company was contracted by the Department of Defense to provide diesel and motor fuel to the Iraqi populace after a Jordanian company failed in the task. The deal was worth $76,956,988 over the course of a year. Several months into the contract, however, the Iraqi government asked for the arrangement to be terminated.
"The war was over and it was time for Iraq to start running its own business," said Ron Uscher, who represented Trigeant for the firm Peckar & Abramson. "They said we don't need the aid. And so the decision came that the Iraqis were now going to assume sovereignty and this contract was no longer needed."
When the Department of Defense acquiesced to the Iraqi government's wishes, Trigeant was left with fuel literally in transit. Not willing to simply take the hit, the company filed a suit saying that as part of their contract, the U.S. government had to cover the costs of the material they had already lifted.
In 2006, Trigeant hired Otto Reich Associates at $60,000-a-year to build congressional support for the firm's claim that it should be compensated for losses. The choice of lobbyists seemed logical. The firm touts its capacity to deal with international economics:
"Often, a company has all the elements required to succeed in a foreign market but lacks the ability to open the political doors to make its case, or the institutional knowledge to close the deal. We provide that missing element to our clients."
But Reich Associates also advertised another asset: proximity to power. On the firm's website, in the "About Us" section, is a picture of the founder Ambassador Otto J. Reich shaking hands with none other than John McCain. Below is a quote from the Senator praising the lobbyist: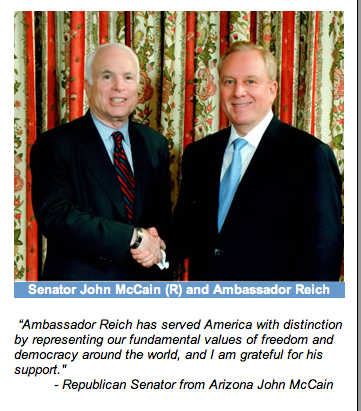 "Ambassador Reich has served America with distinction by representing our fundamental values of freedom and democracy around the world, and I am grateful for his support."
In addition to exchanging rhetorical pleasantries, Reich has been a prominent endorser of the presumptive Republican nominee, is reportedly advising McCain on Latin American affairs, and has donated $30,000 to committees supporting the Senator.
According to forms filed with Congress, Reich wrote that he was paid to "inform members of Congress and other senior government officials of the existence of Trigeant, Ltd.'s claim against the Defense Industry Support Center of the Defense Logistics Agency, of the Department of Defense, and to seek their support for a favorable resolution of the dispute."
Which members Reich met with and what type of advocacy he did on behalf of Trigeant is difficult to quantify. The lobbying firm did not return requests for comment.
But around that time, Trigeant's suit with the Department of Defense was finally settled, with the company awarded $3.25 million for the costs it incurred at the end of its contract. McCain's Senate office did not return a request for comment as to whether or not he was contacted about the case. Uscher, while respecting the need to ask the question, said it was insulting to suggest that Congress could, or would be persuaded to, influence a process that was steeped in contractual law, procurement offices and legal processes.
"[Sargeant] had nothing to do with John McCain until he started making these campaign contributions," he said. "I'm not sure [he] even knew who John McCain was at the time."
Indeed, a review of campaign contribution records shows that Sargeant's support of McCain did indeed start only during this election cycle. Prior to bundling for the Arizona Republican, he raised cash on behalf of former New York City Mayor Rudy Giuliani as well as Hillary Clinton.
Once the primary ended, Sargeant came fully on board. Moreover his brother Dan, who serves as vice president of Trigeant, also raised cash on behalf of the presumptive Republican nominee, donating $4,600 in late January. On March 5, 2008, both Sargeants served as an "Event Chairman" for a "Floridians For McCain reception," an event that raised an estimated $400,000 plus for McCain. McCain is now reviewingdonations brought in by Sargeant.

SUBSCRIBE TO & FOLLOW TRUMP'S FIRST 100 DAYS
How will Donald Trump's first 100 days impact YOU? Subscribe, choose the community that you most identify with or want to learn more about and we'll send you the news that matters most once a week throughout Trump's first 100 days in office. Learn more