It's finally here! Tonight is the season premiere of "Saturday Night Live" — the 34th of its kind and probably its most anticipated. Since SNL returned from the writer's strike last February and shook up the campaign, ridiculing the press for being too soft on Barack Obama and in so doing shaming them into tougher coverage, the late-night comedy show has enjoyed a renewed relevance, with show after show introducing must-watch moments and creating bona fide campaign stars in Amy Poehler as Hillary Clinton, Fred Armisen as Obama, Darrell Hammond as John McCain — and, of course, Lorne Michaels as the brains behind it all.
Now, there is a new character to add to the mix: Sarah Palin. In a season of outsize personalities, Palin is a whopper: The caribou-hunting-moose-eating-high-heel- wearing-bouffant-hairdo-sporting-pregnant- daughter-having-out-of-nowhere Vice-Presidential candidate. Everyone is all a-twitter (literally, all a-twitter) about who will play her — with the obvious choice being her SNL doppelganger, Tina Fey. Word on the street is that chances are good that Fey will return to play Palin.
Yes, she looks like Palin. Yes, she'd be hilarious. Yes, it would be a gigantic crowd pleaser. But I hope it's not true.
Why? A few reasons, but it comes down to this: Going with Fey is a short-term solution. She's no longer a cast member, is running and starring in her own show, which makes continuity for the character challenging. (I'm just thinking through November 4th; but there may be a need for a Palin beyond that date. Wolves, consider yourselves on notice.)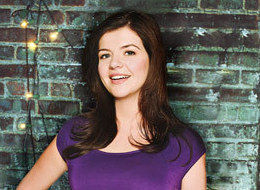 But more to the point, it's a blown opportunity to develop existing cast members. There are two obvious choices: Kristen Wiig and Casey Wilson. The hilarious Wiig has the intensity and volatility to kill as Palin, and showcase her versatility in yet another great character. Wilson is a newbie, with half a season under her belt, and so far has yet to break out with viewers.
Wilson, right, may not be the dead ringer Fey is, but she's clearly got the look (and the requisite amount of hair of piling atop her head in the now-classic Palin beehive). Throw some glasses on her and, voila - the Alaska governor come to life. Besides, Fey isn't the only Palin lookalike; personally, she reminds me so much of Megan Mullally in "Will & Grace" that I honestly can't hear her speak without imagining her demanding a drink from Rosario (if you doubt, check out the first frame of this). Point being, if Wilson — or Wiig — can do the part, it serves the overall show better by giving actual cast members a chance to shine.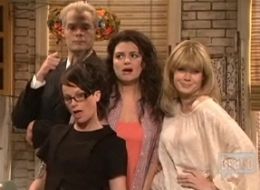 (Yes, I know there is one more female cast member: Amy Poehler. I'm sure she'd do a terrific Palin — she's almost a Palin lookalike here, too, as Christian Siriano in a "Project Runway" spoof. But the fact of the matter is, Poehler is eight months pregnant — which means she'll OBVIOUSLY be playing Bristol Palin.)
Back in fall of 2006 I interviewed Michaels for a profile of SNL, at the beginning of a less auspicious season following cutbacks, after some well-known cast members had been let go and when the core of the current cast was still largely unknown. Michaels said that the point had been to work with a smaller, tighter cast with an eye to developing newbie talent. "I think that the vitality of the show is about turnover, and about discovering new people and seeing new people develop," he told me then. "When you see somebody come into their own and do something remarkable, you realize why you're there." This would seem like one of those moments.
But that doesn't mean that Fey's serendipitous look should go to waste! On the contrary, there are plenty of possibilities for a great cameo. How 'bout this: Fey-as-Palin sits bare-legged with Brian Williams (SNL alum cameo!) for an interview, answering questions without blinking (even if it's also without knowing). Suddenly the unauthorized strains of "Barracuda" are heard, and in bursts the "real" Palin with a shotgun, screaming: "How dare you pretend to be me? THAT'S SEXIST!" She then chases them offstage, shooting wildly (also aiming at Williams because as a member of the liberal media he damn well deserves it). John McCain then walks out on stage, smiling, and calmly informs the crowd that Tina Fey won't be able to continue with her role as guest performer because Palin has sold her on eBay. How's that?
SUBSCRIBE AND FOLLOW
Get top stories and blog posts emailed to me each day. Newsletters may offer personalized content or advertisements.
Learn more