Occasional blips in the polls during the closing weeks of the campaign have produced intermittent bursts of confidence among backers of John McCain and spurts of panic among Obama loyalists.
Take a gold standard: the rolling average of the nine or so most recent national polls calculated daily by RealClearPolitics. Obama's lead dropped from 8.2 points on October 14th to 5.7 on Tuesday, October 21st. If things continued that way until November 4, Obama's edge would shrink to a statistically meaningless 0.7 percent, and a coin flip could predict the presidency.
For those obsessives who follow daily tracking numbers, the emotional roller coaster can reach breakneck speeds. Over a four day period last week, from Wednesday, October 15, to Saturday, October 18, Rasmussen showed a steady decline in Obama's lead, dropping from 5.5 percent to 5.0 percent to 3.9 percent all the way to 2.7 percent.
For those of you who want to spend the next two weeks experiencing the ups and downs of every percentage point shift, a good list of the tracking polls and links to each of them can be found at the 538.com web site. Despite day-to-day fluctuations, the weight of evidence suggests, however, that Obama's lead is solid and it will be very difficult, if not impossible, for McCain to avoid defeat.
On the afternoon of October 21, one of the nation's most credible public polling organizations, the Pew Research Center released a national survey showing Obama ahead by a prohibitive 14 points, 52-38.
"Barack Obama's lead over John McCain has steadily increased since mid-September, when the race was essentially even. Shortly after the first presidential debate on Sept. 26, Obama moved to a 49% to 42% lead; that margin inched up to 50% to 40% in a poll taken just after the second debate. Currently, Obama enjoys his widest margin yet over McCain among registered voters, at 52% to 38%. When the sample of voters is narrowed to those most likely to vote, Obama leads by 54% to 39%," writes the Center's director, Andy Kohut.
"Obama's gains notwithstanding, a widespread loss of confidence in McCain appears to be the most significant factor in the race at this point, " Kohut continues. "Many more voters express doubts about McCain's judgment than about Obama's: 41% see McCain as 'having poor judgment,' while just 29% say that this trait describes Obama. Fewer voters also view McCain as inspiring than did so in mid-September (37% now, 43% then). By contrast, 71% of voters continue to think of Obama as inspiring."
Later in the day, the Wall Street Journal and NBC News released a poll showing Obama with a 10 point, 52-42, lead.
With voters' increased confidence in his ability to serve as commander in chief, as well as a majority who now believe he would do a good job as president, Barack Obama has opened up his biggest advantage over John McCain in the latest NBC News/Wall Street Journal poll. [...]

Obama's current lead is also fueled by his strength among independent voters (topping McCain 49 to 37 percent), suburban voters (53 to 41), Catholics (50 to 44) and white women (49 to 45).

In early September, after the Republican National Convention, McCain was ahead with independents and Catholics, and narrowly trailed Obama among suburban voters.
Tom Mann of the Brookings Institution flatly declares that "McCain does not have a shot absent some cataclysmic event. National and battleground polls continue to show Obama in excellent shape." To back up his argument, Mann emailed the Huffington Post the following chart: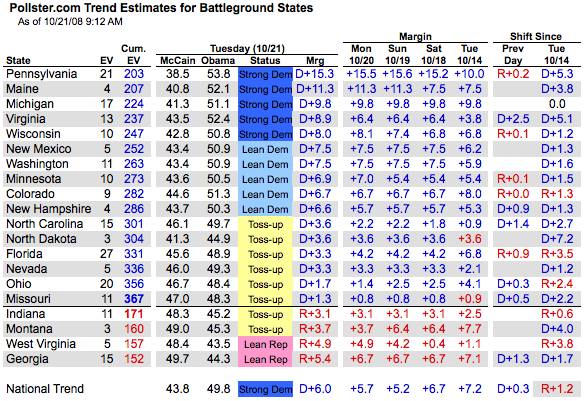 Gary Jacobson, a political scientist at the University of California-San Diego, said, "McCain has a shot, but not, I think, without some exogenous shock (October or November surprise). Obama's resource and organizational advantages remain. I haven't notice much slippage yet in the key battleground states, although state level polls are even more erratic than national polls."
Gallup, which uses three different methods to measure the Obama-McCain contest, found as of 10/21 that Obama's lead was either growing or holding firm. In a model defining "likely voters" simply on the basis of their promised intentions, Obama holds a 10-point, 52-42, lead, up from four points, 50-46, on October 17. When likely voters are defined as those who say they are sure to vote and have a strong history of voting in the past, Obama leads 7-point, 51-44, a significant improvement on the 49-47 edge he had as recently as October 17. Obama's lead is largest, 11 points, 52-41, among all registered voters, and that margin has improved from 6 points, 49-43, on October 15.
For those Democrats still worried about the trends at RealClearPolitics (RCP), they can look forward to an upward tick for Obama as soon as Wednesday morning. Then, the site will add the 14-point Pew survey as well as one of the tracking polls now showing a 9 point Obama lead. Those two new polls will replace the two oldest surveys used by RealClearPolitics that had small Obama leads of 6 and 1 point, respectively.
The net effect will be that Obama's average on RCP will, in just a day, shoot up from a 5.7 point lead to an 8.1 point lead. Obama supporters will be able to put away, at least for now, their Rolaids, while McCainiacs will have to double their dosage of Wellbutrin, Paxil and Zoloft.