We don't really know, but it is drop-dead gorgeous.
While looking through pictures of Ted Kennedy's birthday celebration on Sunday night, we spied the Vice President's wife in the corner of one Getty image. Unfortunately we couldn't find any more photos (Getty and AP take note!). But thanks to the zoom function on Photoshop, we were able to scroll, scrutinize, and conclude that she's wearing some sort of sheer black caftan with a jeweled boat neck.
Scroll down for a close-up of Sunday night's ensemble and slideshow of what Jill Biden has been wearing since her husband took office.
See pictures of the necklace Michelle Obama wore to the same event.
-or-
See Jill "The Lady In Red" Biden in a strapless Reem Acra gown at the inaugural balls.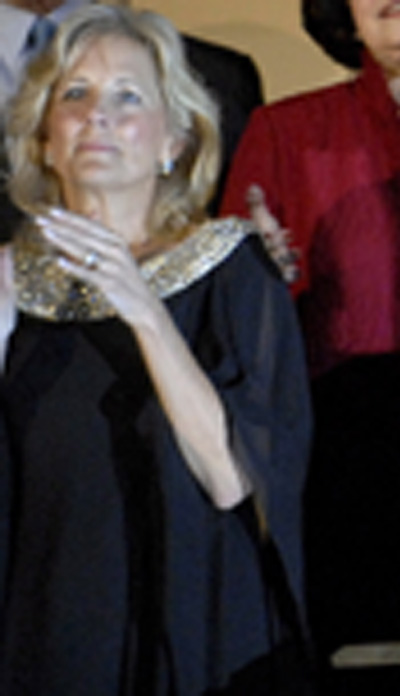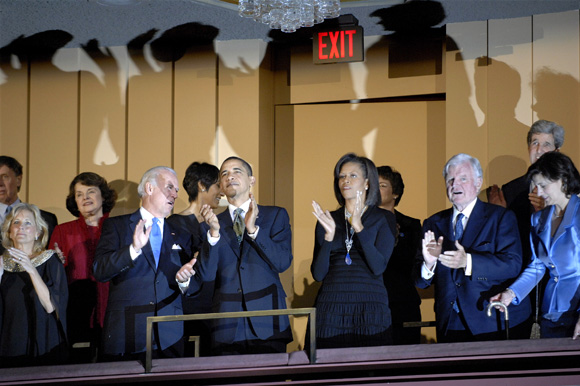 The picture in question. From left: Jill Biden, Senator, Dianne Feinstein (in red), Vice President Joe Biden, White House Social Secretary Desiree Rogers (in back), President Barack Obama, First Lady Michelle Obama, Presidential advisor Valerie Jarrett (behind the First Lady), Senator Ted Kennedy, Senator John Kerry, and Senator Kennedy's wife Victoria on Sunday night at the Kennedy Center in Washington.