EPA Freezes Hundreds Of Mountaintop Mining Permits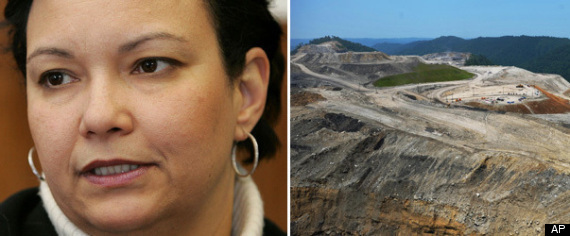 WASHINGTON — The Environmental Protection Agency put hundreds of mountaintop coal-mining permits on hold Tuesday to evaluate the projects' impact on streams and wetlands.
The decision by EPA administrator Lisa Jackson targets a controversial practice that allows coal mining companies to dump waste from mountaintop mining into streams and wetlands.
Between 150 and 200 applications for new or expanded surface coal mines, many mountaintop removal operations, are pending before the federal government. EPA spokeswoman Adora Andy said the agency does not expect problems with the overwhelming majority of permits.
The permits are issued by the Army Corps of Engineers, an agency that has been criticized by environmental groups and has been sued for failing to thoroughly evaluate the environmental impact of mountaintop removal.
Under the Clean Water Act, companies cannot discharge rock, dirt and other debris into streams unless they can show that it will not cause permanent damage to waterways or the fish and other wildlife that live in them.
Last month, a three-judge appeals panel in Richmond, Va., overturned a lower court's ruling that would have required the Corps to conduct more extensive reviews. The appeals court decision cleared the way for a backlog of permits that had been delayed until the lawsuit was resolved.
The EPA's action on Tuesday could leave those permit requests in limbo a little longer.
Ginger Mullins, regulatory branch chief for the Corps' Huntington District, which covers portions of Kentucky, Ohio, West Virginia, Virginia and North Carolina, said the EPA reviews will delay approval of projects.
"It will take more time," said Mullins.
The EPA said in a statement that it would be actively involved in the review of the long list of permits awaiting approval by the Corps, a signal that the agency under the Obama administration will exercise its oversight.
The EPA has the authority to review and veto any permit issued by the Corps under the Clean Water Act, but under the Bush administration it did that rarely.
"If the EPA didn't step in and do something now, all those permits would go forward," said Joe Lovett, executive director for the Appalachian Center for the Economy and the Environment. "There are permits that will bury 200 miles of streams pending before the Corps."
The EPA action stunned the coal industry, which had been breathing easily since the mid-February ruling by the 4th Circuit Court of Appeals.
"It's almost like the EPA's trying to skirt the 4th Circuit appeals decision and do whatever they want to do," Kentucky Coal Association President Bill Caylor said. "We would lose half our production in east Kentucky."
Carol Raulston, a spokeswoman for the National Mining Association, said further delays in the permits would cost the region high-paying jobs.
"This is very troubling, not only for jobs in the region, but production of coal generally," said Raulston.
Mountaintop mines in West Virginia, Virginia, Kentucky and Tennessee produce nearly 130 million tons of coal annually _ about 14 percent of the nation's power-producing coal _ which in turn generates electricity for 24.7 million U.S. customers, according to industry estimates.
The low-sulfur, high-energy coal produced from those mines is not easily replaced. The industry has long maintained that eliminating mountaintop mining will lead to increased imports from countries that have far fewer environmental safeguards.
The practice has a huge economic impact in Appalachia. Mountaintop mines employ some 14,000 people across the four states. Wages average about $62,000 _ high pay for rural Appalachia _ and states make millions in taxes.
"It just absolutely puzzles me as to why the same federal government that's trying to straighten the economy out wants to dismantle the economy of another state, particularly as it relates to the workers at these sites," said West Virginia Coal Association President Bill Raney. West Virginia is the nation's second-largest coal producing state behind Wyoming.
West Virginia Gov. Joe Manchin is planning to meet with White House officials to discuss the Environmental Protection Agency's plan to review mountaintop coal-mining permits. Manchin says he will meet on Wednesday with Nancy Sutley, chair of the White House Council on Environmental Quality.
Manchin said in a statement that he plans to discuss the intent of the ruling. He says he hopes to find a reasonable solution that helps fulfill the nation's energy needs and keep the jobs dependent on the industry.
In a separate action, the EPA recommended denying permits the Army Corps of Engineers was planning to issue that would allow two companies to fill thousands of feet of streams with mining waste in West Virginia and Kentucky. The Corps of Engineers said Tuesday that it was weeks away from issuing both permits.
But in letters sent Monday to the Corps' office in Huntington, W.Va., the EPA said that Central Appalachia Mining, a subsidiary of Lexington, Ky.-based Rhino Resources, and Highland Mining Co., a subsidiary of Richmond-based Massey Energy Co., have not done enough to avoid and minimize damage to water quality and stream channels.
In the case of the Highland Mining's plans, which would fill in approximately 13,174 feet of stream in Logan County, W.Va., the agency said it believes the project "will result in substantial and unacceptable impacts to aquatic resources of national importance."
Neither Massey Energy Co. nor Rhino Resources immediately responded to requests for comment.
___
Associated Press business writer Tim Huber contributed to this report from Charleston, W.Va.
___
On the Net:
EPA Wetlands Site: http://www.epa.gov/owow/wetlands
Copyright 2014 The Local Paper. All rights reserved. This material may not be published, broadcast, rewritten or redistributed.