Better than an iPod? On the second day of the Summit of the Americas Venezuelan President Hugo Chavez presented President Obama with a book on Latin American history.
Much attention has been paid so far to the interactions between the two leaders, who had never met before the summit. Their first meeting Friday night, which consisted simply of smiling and shaking hands, caused quite a stir. If yesterday's photo-op was all about the handshake, than today's was all about the gift.
More details from the AP:
In front of photographers, Chavez gave Obama a copy of "The Open Veins of Latin America: Five Centuries of the Pillage of a Continent," a book by Eduardo Galeano, which chronicles U.S. and European economic and political interference in the region.

When a reporter asked Obama what he thought of the book, the president replied: "I thought it was one of Chavez' books. I was going to give him one of mine." White House advisers said they didn't know if Obama would read it or not.

Later, during a group photo, Obama reached behind several leaders at the summit to shake Chavez' hand for the third time. Obama summoned a translator and the two smiled and spoke briefly.
As ABC's Jake Tapper points out, Chavez's gift was perhaps not as gracious as it may seem, given that the book attacks the US for what it considers its exploitation of Latin America.
Tapper also notes that the book Chavez gave Obama is soaring on Amazon.
The Washington Post has more on Galeano's book and career here.
Interested in checking out Chavez's recommended reading? Check it out on Amazon.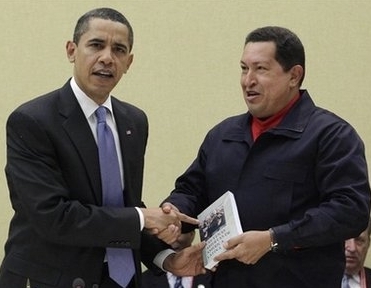 .