Chicago White Sox players, coaches and team personnel toured the White House Monday and met with "First Fan," President Obama.
"He said he hopes that we come back in the fall," general manager Kenny Williams told the Chicago Tribune, a reference to the tradition of the World Series winner being invited to the White House.
The team was in the area for a series against the Baltimore Orioles beginning Tuesday.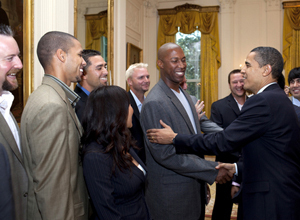 White House Photo/Pete Souza

SUBSCRIBE AND FOLLOW
Get top stories and blog posts emailed to me each day. Newsletters may offer personalized content or advertisements.
Learn more