Desirée Rogers Plays Powerful Role In 'Brand Obama' (SLIDESHOW)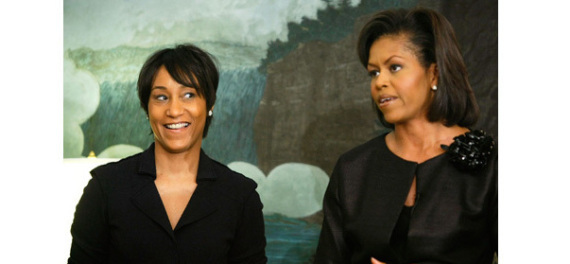 In a lengthy feature article on Desirée Rogers, the Wall Street Journal Magazine writes that the White House Social Secretary has played a powerful role in creating "Brand Obama," thanks, in large part, to the conga line-generating parties she throws and her fabulous sense of style.
In March, Huffington Post readers voted Rogers "Washington's Best-Dressed Woman." See the slideshow below.
WSJ's Amy Chozick writes about the Rogers' fashion fascination, and how what Rogers wears even stirs some debate in the White House press office:
Right before the Governors' Ball, the first black-tie official dinner of the Obama administration, Rogers floated hurriedly through the Bookseller's Room wearing a black floor-length ball gown by Sari Gueron that hugged her waist. She whispered in a tuxedoed usher's ear and made sure everything was in place for the 130 guests who would be arriving soon. "Desirée, what dress is that? Come back!" a reporter yelled when she saw Rogers rush through the bare marble reception room. Her new public role means she has to be more careful of her image. During a photo shoot for this magazine, Rogers seems of two minds about whether to wear an Oscar de la Renta ball gown provided by WSJ. for a shot in the First Lady's Garden. With a negative from the deputy press secretary, Rogers demurs.