*UPDATE: Sandra Day O'Connor has won best-dressed Justice! Scroll down for pull poll results.*
The nomination of Judge Sonia Sotomayor has turned the spotlight on the Supreme Court, and, naturally, what those Justices are wearing. It turns out Supreme Court Justices are permitted to design their own robes, and quite a few have developed signature styles: Justices Ruth Ginsberg and Sandra Day O'Connor had lacy collars, Justice Antonin Scalia breaks out a funny hat out for every inauguration, Justice John Paul Stevens loves his bow-ties, and the late Chief Justice William Rehnquist added lots of flair with his famous Gilbert & Sullivan-inspired gold stripes.
POLL RESULTS: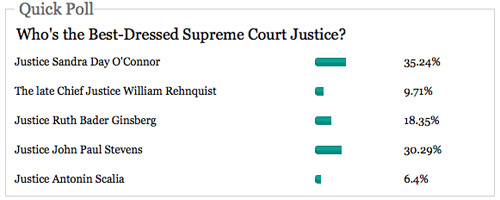 SUBSCRIBE AND FOLLOW
Get top stories and blog posts emailed to me each day. Newsletters may offer personalized content or advertisements.
Learn more