Watched by fearful children and passersby, a mob of nearly 50 young men beat up a woman and paraded her naked in the heart of capital city Kathmandu with no one daring to protest even as Nepal's political parties said they were writing a new constitution that would empower women and other disadvantaged people.
The incident reportedly occurred on May 20, 2009 but was not brought to wider attention until photographs (below) were sent to the blog Mysansar.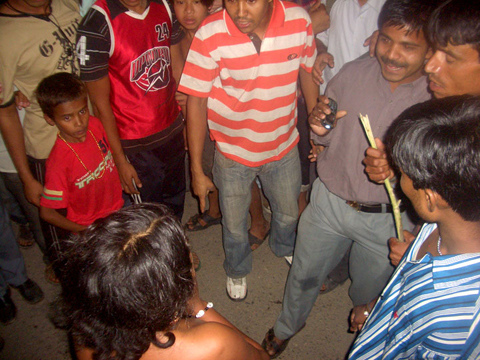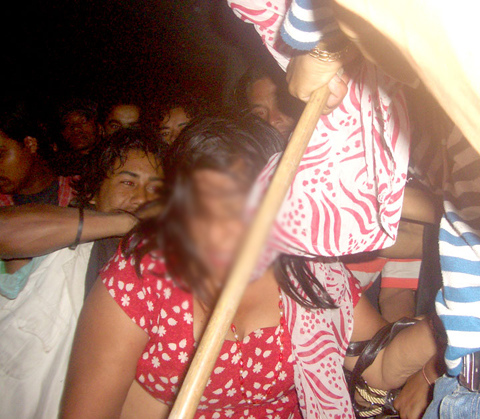 Nepal has been plagued by political turmoil, with the resignation of Maoist Prime Minister Pushpa Kamal Dahal earlier this month following the reinstatement of fired army general Rookmangud Katuwa.
And on May 23, Maoist Madhav Kumar Nepal became the next Prime Minister of the country, but he now faces a hopelessly divided government, the Economist reports. From the Economist:
ON MAY 23rd Madhav Kumar Nepal, the communist son of a Hindu priest, became Nepal's new prime minister. He succeeds Pushpa Kamal Dahal, the country's former Maoist leader--the main protagonist in a decade-long guerrilla war--who resigned on May 4th, leaving the government in limbo. Mr Nepal has the support of 21 of the 24 political parties in Nepal's assembly; but this is scarcely democratic progress. The Maoists, who won 38% of the assembly's seats in the country's first post-conflict election last year, do not support him. Nor did Mr Nepal win either of the two seats he contested in the poll.
SUBSCRIBE TO & FOLLOW WORLD POST