Alex Balk notes that the not everyone was pleased by the stunt pulled by Sascha Baron Cohen and Eminem at the MTV Movie Awards this past weekend. Stella Foster of the Chicago Sun-Times was agog and aghast:
Quite frankly, why would anyone want someone else's coconuts in their face . .. especially in public? The crowd was laughing ... I wasn't!
For my part, MTV's nod to the burgeoning "Tea Party" movement was unexpected, but nevertheless of the moment. Still, I understand Foster's reservations. Just look at what happened!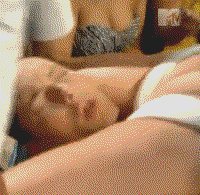 I think it's fair to say that if Dick Cheney had seen that, seven years ago, he'd want to do that to some Iraqis, too!
Weathervanin' With Mickey Kaus: Alex Pareene catches Slate's Kaus all a-flip and a-flop on who's to blame for GM's failings. One second, he seems aware that these spoilt fish have, as per usual, rotted from the head. Days later, he's griefing at auto-workers for daring to call themselves skilled or demanding to paid a decent wage. As we learned yesterday, GM's problem is simply a matter of consumers NOT EVEN WANTING TO SPEND EVEN A FEW HOURS INSIDE ONE OF THEIR TERRIBLE CARS. I'm guessing that consumers would remain unmoved if they found out that the machines were manufactured by poorer, less skilled workers. But, yeah, I'll admit it -- that's just a guess!
If You Read Just One Plan To Battle Pirates With Lasers: THIS ONE! THIS ONE! THIS ONE!
Here's Some Deep Perspective On The Virginia Gubernatorial Race: Via Pygmalion In A Blanket:
Would you, dear reader, believe that there was once a Mexican restaurant in Arlington called El Sombrero that delivered orders of chips and salsa in a sombrero? Silly, but believable, right? How about if the chips were scattered around the brim and the salsa bowl was nestled into the top? Okay, sure. But what if I told you the entire appetizer arrived at your table on the head of a midget?

No one ever believes me.
And so begins a rather compelling explanation of why Brian Moran is not going to be the Democratic nominee for Governor in Virginia.
Stuck In The Middle With You: Apparently, Osama bin Laden's not the only person dropping their new diss track in the wake of President Barack Obama's trip overseas.
[Would you like to follow me on Twitter? Because why not? Also, please send tips to tv@huffingtonpost.com -- learn more about our media monitoring project here.]
SUBSCRIBE TO & FOLLOW THE MORNING EMAIL
Start your workday the right way with the news that matters most. Learn more