G8 Italy Summit: Friday (VIDEO)(SLIDESHOW)
Family Photo (11:45 A.M.)
From Reuters: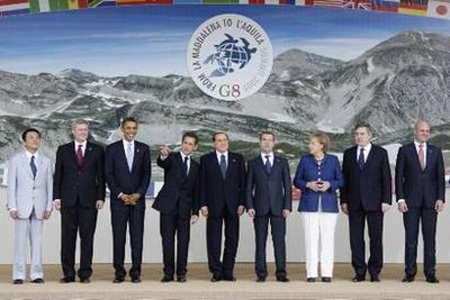 More on protests...(11:40 A.M.)
More reports are emerging of protests, via the AP. Environmental activists have reportedly overrun four coal-fire plants around Italy, three of which are owned by the Italian energy behemoth Enel. And elsewhere:

In Rome, activists from charity group Oxfam International put on masks of world leaders and dressed up as chefs, stirring a mock Earth in a pot representing the planet's rising temperature.


The stunts came a day after anti-globalization groups in the capital blocked roads, rail tracks, and clashed with police in violent protests against the G-8. Nearly 40 Italian and foreign activists were detained.
Some photos: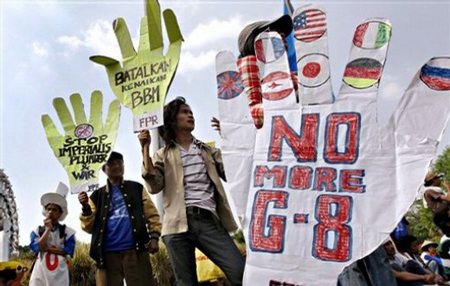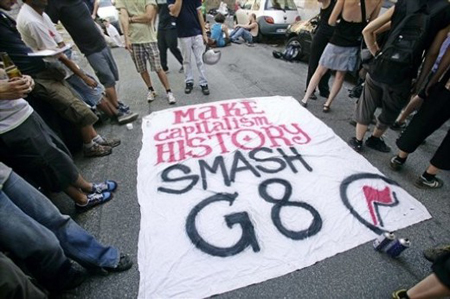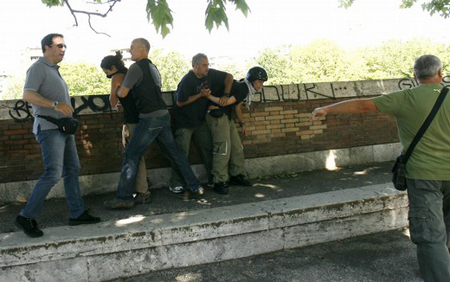 Sarah Brown live-blog? (11:21 A.M.)
As the Telegraph reported, UK Prime Minister Gordon Brown's wife Sarah Brown, who is accompanying her husband to the summit, plans to live-blog her unique perspective from behind the scenes. The blog, here, has so far been unattended, with the exception of one, introductory post. However, to be fair, it's still early on in the 3-day summit, and according to the Telegraph, who is live-blogging the summit here, the British first lady will apparently be granted a half-hour private conference with the Pope, which could yield an interesting report.
Brown also has a link on her blog to the Downing Street Flickr channel, which has plenty of good, up-to-date photos from the summit.
Obamas' Pope meeting (11:14 A.M.)
Via Lynn Sweet, White House Press Secretary Robert Gibbs says that the Obamas will meet the Pope on Friday at the Vatican "to discuss a range of issues, including their shared belief in the dignity of all people."
Obama backs-up Italy's organization of the summit (11:03 A.M.)
In a tacit response to much of the criticism Italy received for its organization of the summit, Obama, speaking to the press after his meeting with Italian President Giorgio Napolitano, commended Italy for its "strong leadership", according to the Italian news site ANSA. Obama then laid particular praise on Napolitano, saying, "I had heard of the wonderful reputation of President Napolitano as somebody who has the admiration of the Italian people not only for his longstanding service but also his integrity, and his graciousness. 'And I just want to confirm everything I have heard about him is true. He is a true moral leader who best represents your country."
Iran...it's what's for dinner (10:44 A.M.):
The political strife in Iran and its ongoing nuclear program will be discussed at Wednesday's G8 working dinner, the AFP reports. Though some have called for joint sanctions against Tehran, the AFP reports that this is unlikely, due to Russia's unwillingness to get on board. Also at issue is a French woman and Iranian employees at the British embassy who have been arrested on, according to France and the UK, bogus charges.
Harper touts Canadian approach to stimulus (10:29 A.M.)
Canadian Prime Minister Stephen Harper gave a speech Wednesday at the summit's opening where he urged other members not to pursue additional stimulus measures until the current programs show returns, the Canwest News Service reports:

"Before there's talk of additional stimulus, I would urge all leaders to focus first on making sure the stimulus that's been announced actually gets delivered," Harper said Wednesday after announcing a $5-million Canadian contribution to the host city here that was devastated by an April earthquake that caused about 300 deaths.

"That's been our focus in Canada and I would encourage the same priority elsewhere."
Harper, a conservative, is voicing similar sentiments to Sarkozy and Merkel against increased spending. His warning comes precisely as quiet talks of a second stimulus are brewing within the United States, with calls from experts such as Paul Krugman, as well as senior legislators like House Majority Leader Steny Hoyer.
Berlusconi boycott (10:09 A.M.)
A few weeks ago, Italian women academics called for the spouses of each G8 leader attending the summit to boycott its official events in protest of the philandering and sultry activities of the host, Silvio Berlusconi. Well, according to Times Online, the call didn't fall completely on deaf ears. French first lady Carla Bruni--who is Italian born and has long been disgusted with Berlusconi--is staying away from all of the official G8 events in Rome, but will still visit L'Aquila. Times Online also reports that German Chancellor Merkel's husband, Joachim Sauer, will also not be in attendance, though it is unclear if his absence is in protest to Berlusconi or simply incidental.
Not as big as G20 London yet... (10:00 A.M.)
The Group of 20 Summit in London this past April was accompanied by mass protests and even one death at the hands of a baton-wielding policeman. So far, however, the Italy summit has been more toned-down, with impromptu protests in Rome on Tuesday that resulted in 38 arrests, according to the AP, but not yet nearing the scale of London.
According to Voice Of America, the Italian government has deployed 15,000 police officers to L'Aquila, some of whom confiscated clubs from French protesters Tuesday, with no arrests.
"Damaging speculation" (9:40 A.M.)
The second biggest issue next to climate change at the summit will be the global financial crisis, where world leaders have not totally agreed on ameliorative measures--a clash that was central to the G20 Summit in London in April. While Obama and the UK's Gordon Brown have implemented massive stimulus policies, French President Nicolas Sarkozy and Germany's Merkel favor more conservative methods, and have criticized their cross-pond neighbors for fiscal profligacy.
Nevertheless, Brown and Sarkozy are still capable of finding common ground, as demonstrated by a joint op-ed today in the Wall Street Journal where they call for more intense regulation of oil futures to discourage "damaging speculation" that exacerbates market volatility:

For two years the price of oil has been dangerously volatile, seemingly defying the accepted rules of economics. First it rose by more than $80 a barrel, then fell rapidly by more than $100 before doubling to its current level of around $70. In that time, however, there has been no serious interruption of supply.

The oil market is complex, but such erratic price movement is cause for alarm. The surge in prices last year gravely damaged the global economy and contributed to the downturn. The risk now is that a new period of instability could undermine confidence just as we are pushing for recovery.