LobbyBlog
Click here for the latest from the new and improved LobbyBlog!

August 29, 2009
WALL STREET PLANS DELAY TACTICS TO FIGHT DERIVATIVES OVERHAUL The Obama administration seems to want to try to regulate the derivatives market. Bloomberg reports that "Five U.S. commercial banks, including JPMorgan Chase & Co., Goldman Sachs Group Inc. and Bank of America Corp., are on track to earn more than $35 billion this year trading unregulated derivatives contracts." So, this means war.
The Washington fight, conducted mostly behind closed doors, has been overshadowed by the noisy debate over health care. That's fine with investment bankers, who for years quietly wielded their financial and lobbying clout on Capitol Hill to kill efforts to regulate derivatives. This time could be different. The reason: widespread public and Congressional anger over the role derivatives such as credit-default swaps played in the worst financial crisis since the Great Depression.


"Public sentiment isn't very much in their favor," said Richard Lindsey, a former director of market regulation at the U.S. Securities and Exchange Commission who worked at Bear Stearns Cos. from 1999 to 2006, referring to Wall Street firms. "In some places, they're not going to have anybody who wants to listen to them."
That doesn't mean that Wall Street doesn't have a strategy. As it turns out, it's very much like the strategy against health care reform:
For Wall Street, the longer it takes to get legislation passed the better. As stock market values and the economy improve, anger at banks is likely to subside.


"If we don't pass it by early 2010, we get into the congressional election period where this is just too controversial an issue," Peabody said. "You've got too many different financial interests with opposing views that Congress just isn't going to go out on a limb and pass it and put their re-election in jeopardy. We don't think we're going to see legislation until 2011."
NEW LOBBYIST CONTACT RULES YIELD FEW REPORTS The AP is reporting today that despite the fact that lobbyists say they are all over the $787 billion dollar stimulus package, like flies on feces, federal officials haven't widely reported on having a ton of contacts with lobbyists. That's weird! Especially since the Obama administration ordered federal officials to disclose all contacts with lobbyists who come sniffing around the stimulus. SO WHAT'S GOING ON, PEOPLE?
In August, the entire government reported only eight such lobbying contacts. The Pentagon, which controls about $7.4 billion in stimulus spending, reported just one lobbying contact so far this year. The Homeland Security Department, with at least $3 billion to spend, reported none.


Yet the paucity of reporting masks activities by lobbyists and clients eager to obtain stimulus money for their projects. Lobbyists have separately reported work related to stimulus projects, and in many cases have operated in new ways to skirt restrictions on their efforts to influence stimulus spending.
It's almost as if there was some kind of loophole or something!
New White House rules issued late this summer were aimed at eliminating a loophole: Lobbyists had been sending their clients to do the pitching below the radar of public disclosure.


U.S. officials have to disclose only their contacts with lobbyists, not others interested in the stimulus money like corporate executives or trade groups. But new rules bar conversations with lobbyists and others once an application for money is submitted.
PROMOTING ONLINE DISCLOSURE The Sunlight Foundation has been waging a hard-fought campaign to get the House and Senate to put their public documents online, where the public can readily get at them. Currently, your legislative branch can claim transparency, but they make the public go to an awful lot of trouble if they want to view their documents:
The Senate makes available a handy report listing all of their public documents, but you have to goto their public record's office to obtain a copy. (We've uploaded the 2009 version.) The House doesn't have an equivalent report, although they do make available a bookmark listing some of their resources. Both offices charge a per-page printing/copying fee ($0.10/page for the House and $0.20/page for the Senate). Neither office lets users make copies of their electronic files, whether in whole or in part, even though many files are available in electronic format on dedicated computers in their offices.


According to our count, the House Clerk's office has 12 different kinds of documents: 6 are available online, 4 are available only at their office, and 2 are not available publicly at all. Likewise, the Senate Office of Public Records has 14 different kinds of documents; 3 are available online, 9 are available only in their offices, and 2 are not available publicly at all.
HOW TO WEED YOUR ASTROTURF PR Watch is as sick of these Astroturf groups as Samuel L. Jackson was about those snakes on that plane:
It's making our heads spin! Issues affecting some of the country's biggest industries, like health insurance reform, a proposal to tax sodas and sugary drinks, and the FDA's possible reconsideration of the plastic additive Bisphenol A, have boosted corporate astroturfing up to a dizzying pace. With all these corporate fronts coming out of the woodwork, how can citizens tell true grassroots organizations from corporate fronts operated by highly-paid PR and lobbying firms?
That sets up the essential soup-to-nuts guide on telling your grassroots from your plastic. Read and enjoy!
August 28, 2009

KENNEDY'S COMMITTEE HEIRS TIED TO BANKS The Sunlight Foundation's Paul Blumenthal raises some important, early concerns about who might wind up chairing the Banking Committee as a result of Senator Ted Kennedy's departure. Because Senator Chris Dodd is next in line to take Kennedy's health committee chairmanship, he'll need to give up the banking chair. That puts South Dakota's bank-friendly Democrat Tim Johnson next in line:
According to Open Secrets, from 2003-2008, Sen. Johnson has pulled in $1,407,958 from the finance, insurance and real estate sector. While this pales in comparison to Sen. Dodd's $9,097,107 over the same period of time, it accounts for 20% of the South Dakota senator's campaign haul.
Blumenthal goes on to cite a report from Open Congress that demonstrated the influence that the monies taken in have affected Johnson's voting record:
Donny Shaw at Open Congress (Friend of Sunlight) looked at Sen. Johnson's recent votes and showed that he stands out among Democrats in his support for the credit card industry. The senator was the only Democrat to oppose a recent law, sponsored by Sen. Dodd, to "restrict unfair credit card rate increases, penalties and fees, and bans deceptive and predatory practices." He was also one of a handful of Democrats to oppose a series of amendments meant to impose tougher regulations on credit card companies.
THE PAPAL TRAIL For nearly 30 years, the U.S. Conference of Catholic Bishops have pressed for "universal health insurance, especially for the poor." But there's been a shift in the winds. At issue is an old, contentious issue and new dose of disinformation. David Kirkpatrick, writing for the New York Times, has the story:
As recently as July, the bishops' conference had largely embraced the president's goals, although with the caveat that any health care overhaul avoid new federal financing of abortions. But in the last two weeks some leaders of the conference, like Cardinal Justin Rigali, have concluded that Democrats' efforts to carve out abortion coverage are so inadequate that lawmakers should block the entire effort.


Others, echoing the popular alarms about "rationing," contend that the proposals could put a premium on efficacy that could penalize the chronically ill.
OBAMA, DNC ABANDON (SOME) TAINTED CASH Politico's Ken Vogel reports that President Barack Obama and the DNC have "joined the growing group of politicians and committees pledging to return or donate to charity campaign contributions" raised by Hassan Nemazee, who's been charged with attempting to defraud Citibank to the tune of $74 million.
BUT, there is a but:
But a DNC official stopped short of promising that Obama would give back or give away contributions from other donors that came through Nemazee through a process known as bundling that brought in more than $500,000 for Obama's campaign.

Instead, Obama, his inaugural committee and the DNC will donate to an as-yet unspecified charity a total of $61,700, according to the DNC official.
ONE WORD: PLASTICS The plastics industry is going to spend a cool $10 million trying to convince the FDA from reconsidering their current position on the safety of a chemical additive known as Bisphemol A, or BPA. According to PR Watch, they'll be putting some time-tested tactics to use:
The Society for the Plastics Industry, a trade and lobbying group for companies that manufacture products containing BPA, is using many of the same PR strategies, and even the same PR companies, that the tobacco industry used in its decades-long fight against regulation. To discourage reconsideration of the health hazards of BPA, the plastics industry is downplaying the risks of the additive, discrediting anyone who portrays the chemical as a health threat, and utilizing Web 2.0 technology, like blogs, Facebook, Twitter, Wikipedia and YouTube, to plant "Trojan Horse" messages. The plastics industry is also using the lobbying and PR firms Apco Worldwide and the Weinberg Group, both of which worked closely with the tobacco industry to help confuse the public about the health hazards of secondhand smoke.
THE FCC AND LOBBYISTS Karl Bode at Broadband Reports has a terrific piece up today on the despairingly frictionless "revolving door" that spins, endlessly, between FCC regulators and the industry lobbyists, all but ensuring that consumers will get jacked, forever.
Perhaps more embarrassing is that nobody in the sector really seems to see a problem, or ever really understands how broken things have become. FCC senior legal aide to Democratic Commissioner Copps Rick Chessen this week left the FCC to go become a lobbyist for the cable industry's main lobbying group, the NCTA. In a departing love letter, Commissioner Copps praises Mr. Chessen's abilities, with a small guffaw:

"I congratulate Rick Chessen on his appointment to an important private sector position. Its gain is our loss. Rick has a most distinguished record of public service, capped by a stellar performance as Acting Chief of Staff of the FCC from January-June of this year. (I think perhaps he did too good a job and thereby attracted covetous looks from many outside government!)

Oh the levity! A skilled employee who knows the inside workings of the FCC will now proceed to the cable industry, where he'll use that knowledge to screw consumers by passing laws that erode their rights and lighten their wallets! Guffaw, indeed.

August 27, 2009
CAN'T SPELL "PARTY" WITHOUT TARP Public Citizen has plumbed the depths of Sunlight's extensive PartyTime database and determined that when it comes to lobbying parties, the lobbyists that represent TARP recipients know how to get down. From Election Day through the end of June 2009, such lobbyists have held over seventy parties and chipped in six million dollars worth of campaign scrilla. The U.S. Chamber of Commerce has led the way, hosting 35 fundraisers. The big recipients include the Democratic Congressional Campaign Committee, the Democratic Senatorial Campaign Committee, the House Ways and Means Committee, and forty-eight members of Congress.
Another big winner? Tony Podesta:
Collectively, lobbyists for the Podesta Group were scheduled to host at least 14 fundraisers, more than those for any other lobbying firm, and made $82,150 in federal contributions in the time period covered in this study. Lobbyist Anthony Podesta scheduled at least 10 fundraisers at his house, according to three invitations...that referenced events slated to take place between March 25, 2009, and June 17, 2009. Podesta has lobbied Congress on financial services provisions on behalf of a division of the U.S. Chamber of Commerce.
Read Public Citizen's report, and get more at Sunlight's PartyTime blog.
A DECADE UNDER THE INFLUENCE Lobbying was a sickness on the body politic back in 1998, when lobbyists spent $1.44 billion dollars influencing your legislators. Ten years later, that seems quaint. Despite the fact that the number of lobbyists only increased from 10,661 to 14,838, the haul more than doubled: total lobbying spending in 2008 hit $3.3 billion. The recession hasn't slowed much. Through two quarters of 2009, lobbyists have spent $1.63 billion.
INTERNATIONAL MEN OF MYSTERY The ProPublica/Sunlight Foreign Lobbying Influence Tracker continues to yield great information and stories. Today, Sunlight's Luke Rosiak brings us the incredibly true story of Ari Ben-Menashe, an Israeli spy-turned-lobbyist provocateur.
Lobbyists often involve themselves in political campaigns, but Ben-Menashe's role in Zimbabwe's disputed 2002 presidential election went far beyond bundling contributions or serving as a strategic adviser.


Mugabe defeated Tsvangirai by the narrowest of margins in what was widely decried as a rigged election. At the time, Tsvangirai spoke with Ben-Menashe about a plan to "eliminate" Mugabe. Ben-Menashe turned over a videotape of the conversation to Mugabe's administration, and Tsvangirai was charged with treason.

Tsvangiria claimed he was approached by Ben-Menashe, but in an interview, the Montreal-based lobbyist said it was the other way around. "The head of the opposition of the government you're representing says, 'Can you help us do a coup and kill the guy?'"
LOBBYIST APPAREL Dave Levinthal at OpenSecrets points us in the direction of this page of t-shirts at Zazzle, which celebrate, among other things, lobbyists. Hopefully, these will take off so that the rest of Washington will know, at a glance, precisely who to scorn.
August 26, 2009
In a nod to the House Republicans who devised a chart supposedly showing the bureaucratic nightmare that would result from Democratic health care reforms, the Campaign for America's Future has devised a chart of its own, titled "Who's Paying to Kill Health Reform?"
It's a tangled web, with big lobbying firms, industry groups, and Astroturf organizers all linked to townhall meetings. Reflecting a widely-held view among progressives, the big kahuna behind it all is the health insurance industry, via trade group America's Health Insurance Plans.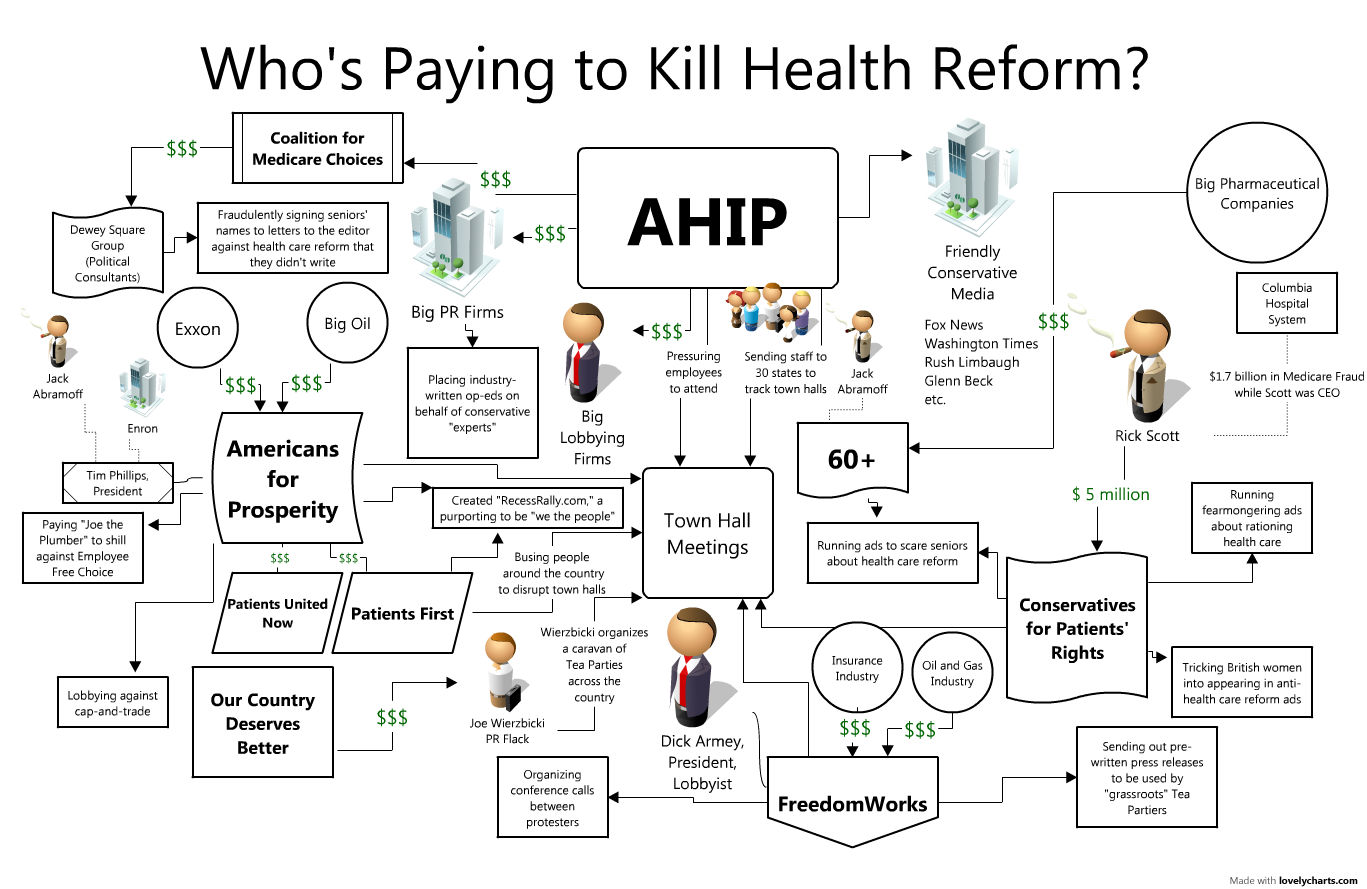 Click here to see a larger version of the chart.
"They're playing a sophisticated game at the front of the pack," said Campaign for America's Future's Roger Hickey in an interview with the Huffington Post. "They're trying to pretend that they're in favor of reform and they're spending some money on advertising that looks like
it's pro-reform. And at the same time they're working pretty hard to make sure the public plan is not in the final version. They're primarily using their political contributions and their lobbying
efforts to do that."
As the chart shows, AHIP is encouraging the employees of its members to attend town hall meetings. The chart also has AHIP pumping money into big PR firms, something unproved that AHIP denies -- though reform advocates suspect it's true.
"'Launder' is a strong word, but that's essentially what happens," said Wendell Potter, a former CIGNA executive turned reform advocate. "They pay money to big PR firms and set up front groups and use connections with members of Congress. These are their shills."
"It's what I saw as someone who was in the industry for 20 years and who worked on a lot of industry committees -- committees of America's Health Insurance Plans in particular," Potter said.

-- Arthur Delaney
August 25, 2009
TAX HAVENS SPREAD INFLUENCE ProPublica and the Sunlight Foundation have been sifting through the available data from their just-launched Foreign Lobbying Influence Tracker, and they've discovered "extensive lobbying efforts by countries labeled as tax havens." Back in May, President Obama announced that he was going to face the issue of tax havens head on:
For years, we've talked about shutting down overseas tax havens that let companies set up operations to avoid paying taxes in America. That's what our budget will finally do. On the campaign, I used to talk about the outrage of a building in the Cayman Islands that had over 12,000 business -- businesses claim this building as their headquarters. And I've said before, either this is the largest building in the world or the largest tax scam in the world.
Sunlight's Bill Allison says that the host nations of tax havens are countering the efforts with lobbying:
"Disclosures filed in 2008 show that six governments - Aruba, Bermuda, the Cayman Islands, the Isle of Man, Liechtenstein and the States of Jersey - and the Bank of the Netherlands Antilles employed U.S. lobbyists, paying a total of $2.3 million in fees. Those lobbyists had at least 222 contacts with members of Congress, their staff and executive branch officials in which they discussed tax laws, legislation aimed at tax havens like the Stop Tax Haven Abuse [4] bill, or efforts to negotiate tax exchange information agreements with the United States and other countries."
CROUCHING SECRETARY, HIDDEN LOBBYIST Tom Daschle, as you may have heard, is a RESOURCE, not a lobbyist! A RESOURCE. Get it straight! Of course, he's been a RESOURCE for many, many, many moneyed interests in the health care industry. Sunlight's Paul Blumenthal has had Daschle on lock for a long time now:
Many of Alston & Bird's major clients are from the health care sector including the American Hospital Association, HealthSouth Corp, and pharmaceutical companies Abbott Laboratories, Bayer, Celgene, and Mylan Laboratories. In total, Alston & Bird is currently representing 31 clients from the health care sector. Of the $2,730,000 reported income received from clients, nearly 50% of that, $1,070,000, comes from these 31 health care clients.


This looks like another benefit of the revolving door. You can release a legislative proposal from outside of Congress and the first thing anyone thinks of is your previous job and not your current one.
For the purposes of review, Blumenthal helpfully reprints his chart of Daschle's clientele.
CIRCLE OF LIFE Back in 1990, Pfizer gave most of their campaign cash to Democrats. But by the year 2000, that had changed: by 85% to 15% margin, the pharma giant favored the GOP. Now we're heading into the 2010 campaign cycle. You'll never guess where their contribution levels are projected to be! By which I mean, SURELY YOU WILL GUESS THIS.
IT'S ALWAYS SUNNY AT NATIONALS PARK FOR THE PHILLIES Representative Patrick Murphy is a good man -- served his country in Iraq, opposes Don't Ask Don't Tell at home -- but this truly will not stand. It's understandable that Murphy, who represents the Philadelphia-adjacent 8th District, would want to fundraise at a Phillies game. But the fact that he's having his fundraiser at Nationals Park, in Washington, D.C., just doesn't sit well with me. It only underscores that the Nationals, who are TERRIBLE, have basically seen their home become the de facto vacation home of the Phillies. On the other hand, the only reason we have a baseball team at all is to give out-of-town Congresscritters a new place to schmooze, so, I guess the system works. Anyway, September 8, this ballpark will be crawling with both lobbyists AND Phillies fans, so stay away.
IN CASE YOU MISSED IT I missed Brian Ross' excellent and thorough accounting of where $80 million of lobbyist money landed on Capitol Hill. Be sure that you don't!
If money talks, it is positively screaming in the health care debate. $80,831,142.00 in political contributions from individuals, industries, and political action committees from the insurance, big pharma, hospitals and health professionals on one side to retirees on the other, have contributed heavily in this election cycle to make sure that politicians are hearing them loud and clear.


Using data acquired on the individual and PAC activities of the senators and representatives in Congress from OpenSecrets.org, pooling together the data from all of the directly interested parties in the health care debate, it is clear that many elected officials home for the recess are putting their mouths where their money is.

There are very few in Congress who take no money from any of the people and groups with interests in health care policy. There are many who don't take much. All have been listed so you can see what money may be motivating your elected officials as the push towards health care reform continues.
Here's part one and here's part two!

August 24, 2009
DASCHLE HAMMERED This weekend, The New York Times offered a lengthy profile of Tom Daschle and his various roles as a go-between, serving the interests of clients of Alston & Bird -- a lobbying firm with many health care industry clients and the White House. Throughout it all, he claims to not be any sort of lobbyist. In fact, he's got an awesome new euphemism at his disposal:
Mr. Daschle is not registered as a lobbyist and recently told U.S. News and World Report that he preferred to describe himself as a "resource" to those in government and industry.


"I'd like to be a resource to my former colleagues, to the extent that I can, to the administration, to the stakeholders and to people interested in just kind of knowing how this is all going to play out," he said. "I am most comfortable with the word resource."

White House officials say they appreciate his help. "He is one of a number of people that provides outside advice to the White House, and the president greatly appreciates that advice and Tom's friendship," said Dan Pfeiffer, a spokesman for the White House who previously worked for Mr. Daschle. Mr. Pfeiffer added that the former senator was "a recognized expert on health reform who knows more about the legislative process than just about anyone."

Critics, though, say his ex officio role gives Alston & Bird's health care clients privileged insights into the policy process. They say Mr. Daschle's multiple advisory roles illustrate the kind of coziness with the lobbying world that Mr. Obama vowed to end. If he had been confirmed as health secretary, Mr. Daschle would have been subject to strict transparency and ethics rules.
Writing on these pages, Allison Kilkenny makes the case for connecting the dots:
But it was Daschle who first introduced the idea of nonprofit insurance cooperatives as an alternative to the public option. Daschle and his good buddy, Blue Dog Kent Conrad, came up with the idea of insurance co-ops which included the concept of "triggers" that landed Rahm Emanuel in hot water with progressive groups like Firedoglake when he first floated the idea past the public. Basically, the trigger idea meant that the public option would only become a reality if state co-ops or other programs failed to meet certain cost and coverage goals within five years. The idea sank almost immediately thanks in large part to progressive watchdog groups. Now, Henry Waxman told Roll Call, "[Emanuel] doesn't stand by the trigger...He said the president and his administration and he are for a public plan as one of the options."


Privately, Daschle tells his health care industry buddies that the public option is far from finalized. In order to calm the nerves of drug company executives, Daschle told them that "there is no consensus on whether there ought to be a public option." As recent as last week, he told the hospital executives, "There is virtually no support among Republican members for a public option, and that remains an unresolved element of this debate." Of course, Daschle is only concerned with support in Congress. Meanwhile, the newest polls indicated that Americans overwhelming support the idea of including a public option in health care reform.
MUST ATTEND PARTY We're mulling whether to scrape the $250 together to send Arthur Delaney dove hunting with Virginia Republican Representative Rob Wittman. Just a gaggle of folks together at a gas station in Maryland, trooping around in the woods, killing doves and purchasing legislation, whilst carrying guns!
A SHOT FROM NEW HAMPSHIRE The New Hampshire Union Leader takes a shot at President Barack Obama, who, in their eyes, comes up lacking on a critical campaign pledge:
Just a few hours after being sworn in last January, Treasury Secretary Timothy Geithner promised to draft rules preventing outside lobbyists from seeking the hundreds of billions of dollars in bailout money for their client banks. As of this week, those rules have not been adopted.


Thus, all this time, when we thought lobbyist influence was limited, there were no limits on lobbyists coming in and out of federal buildings, asking for their large banks and institutions to get billions in bailout money.

So much for the idea that bailout funds would be handed out based on merit and need as opposed to lobbyist influence. Another promise broken by Obama.
TANGLED WEB Hello. This is just your periodic reminder that Mr. Apple Of The Health Care Lobby's Eye Dick Armey (a.k.a. "The Dick Armey") is tied to Jack Abramoff who's tied to corruption which is tied to people still getting indicted. Do all of these connections have any effect on the ways laws get made and affect your lives? I'm sure only glancingly, right?
August 21, 2009
ARE BLUE DOG SALAD DAYS OVER? Aaron Mehta and Josh Israel make the case over at Paper Trail:
In our report last month, the Center detailed how donations to the Coalition's PAC had soared as members of the moderate Blue Dog Democrats become a crucial swing vote between Democrats and Republicans. Given all publicity about the Blue Dogs' new-found power, we thought it would be interesting to look at the recently-released July fundraising numbers for the Blue Dog PAC and see if anything had changed. We were surprised by what we found.


The Blue Dog PAC took in only $27,000 in July, a significant decrease from the record $176,000-a-month-plus average it took in during the first six months of 2009. For comparison, the PAC took in $106,500 in June from other political action committees. As the Blue Dogs exploded to the forefront of the health care debate in July, not a single health care sector political committee donated to the Blue Dog PAC. And despite hefty contributions in previous months from energy companies concerned about the climate change bill, the energy donations also completely dried up in July. Through the first six months of the year, these sectors were the two largest contributors.
PARTY TIME WITH THE PODESTAS Everything's been coming up roses for the Podesta Group, lately, so the National Journal's profile of the nouveau lobbying kingpin is well-timed. Here's my favorite part:
Whether it's the Podestas' humor, the dinner parties that the couple host at their home in Northwest Washington, D.C., or the $3 million they have helped to raise for Democrats and party committees during this election cycle, Heather and Tony are among the more popular figures in Denver this week.


Yes, the Obama campaign has been pounding away relentlessly with anti-lobbyist rhetoric. And new congressional ethics rules have turned every lobbyist into a persona non grata at this convention. Still, hundreds of well-known Democratic movers and shakers would not miss the chance to see and be seen at a Podesta soiree.

The events in Denver have included a Sunday evening reception that they co-hosted, and at which a fundraiser for Barack Obama was invited; brunches on Monday and Tuesday at Bistro Vendome; a Wednesday book party for Tony's brother, John, a former Clinton White House chief of staff; and a series of small dinners with Democratic governors.

"I don't think of Tony as a lobbyist," Rep. Anna Eshoo of California says at the Monday brunch. "I think of him as a friend."
HA HA HA HA YES. I just bet you do, Anna Eshoo!
WHERE IN THE WORLD IS ARTHUR DELANEY? Can you believe this? The Huffington Post finally hears about a fundraiser with an entry fee that's a little more our speed, and STILL no one wants us at the party? Arthur Delaney went to the "Dog Days of Summer Cookout" held by the chiefs of staff by many GOP Senators yesterday. He had the $100 entry fee covered. He even brought HuffPost intern Laura Dean -- who is a DELIGHT, by the way, and way fun to have at any party. Plus, Arthur is a natural at the grill. Basically, we met these guys way more than halfway, and still couldn't get in.
TREASURY MINDERS NOT UP TO SPEED ON LOBBYIST RULES Neil Barofsky is the Special Inspector General for the Troubled Asset Relief Program. Or SIGTARP, if you're nasty! Anyhoo, Barofsky recently released an audit of the Treasury Department geared toward ensuring that outside parties could not exert "undue influence" over the TARP process. Daniel Schuman at the Sunlight Foundation reports today that Barofsky's audit may have been predicated, in part, on lobbyist regulations that are out of date:
When explaining how to fix this disclosure gap, the Inspector General pointed to rules governing lobbying on the $787 billion economic stimulus funds as a good model for the financial bailout. The IG also noted that the Treasury Department announced on January 27, 2009 that it "would develop new rules to increase transparency and curtail potential lobbyist influence" over the financial industry bailout. And yet, the Treasury Department is still "finalizing" its draft policy 7 months after the press release.
Unfortunately, Mike Stern, who used to be the senior counsel for the House of Representatives, noticed some discrepancies:
Stern explains that Obama's revised stimulus lobbying rules treat lobbyists and other interested parties similarly with respect to prohibiting certain communications. Yet, the Treasury official's statement on the draft financial bailout lobbying rules does not mention other parties as being included in the ban. Second, the revised stimulus lobbying ban likely does not apply to Members of Congress, and yet the Treasury official's statement states that Treasury employees cannot speak with members of Congress regarding specific projects. (This is probably unconstitutional.)


Even with these problems, the Inspector General embraces the stimulus lobbying guidelines as a model for the financial bailout guidelines. And yet, nowhere does the report mention that the administration has updated and significantly revised its stimulus lobbying guidelines. I wrote about the major revisions earlier.

Based upon Stern's analysis, there are two instances where the IG report failed to note that the Treasury official's statement concerning stimulus lobbying guidelines was no longer operative. Moreover, although the IG report summarized the Treasury Department's interim stimulus lobbying guidelines (which mirror the April 7th stimulus lobbying guidelines promulgated by the OMB), nowhere does the report mention that the stimulus lobbying rules were updated by OMB on July 24th.
That's not all: Barofsky's audit seems to be unaware that disclosure rules concerning government written communications have changed as well. Find out more, here.
BIG COAL BAILS ON BONNER Amid the controversy over that "temp employee" of Bonner and Associates who supposedly put his job at risk during a recession to send forged letters to various legislators because he had decided on his own it would be a good idea (ha ha) comes the news that the American Coalition for Clean Coal Electricity is cutting ties with the lobbyists. Amy Harder at National Journal's Under The Influence blog has the deets:
"We will not be working with Mr. Bonner again," Joe Lucas, senior vice president for communications at ACCCE, told NationalJournal.com. "ACCCE did nothing wrong. Looking back, there would be many things we would do differently."
Will more clients bail on Bonner? Developing!
BIG OIL UPS ANTE Lawrence Delevingne at Business Insider reports that Big Oil's lobbying efforts increased by 82% in the second quarter.