Five-Legged Dog, Lilly, Saved From Coney Island Freakshow: Leg Amputated
Update 7/24: Lily the dog no longer has five legs.
From the Daily News:

The owner of a five-legged puppy outfoxed a Coney Island sideshow - getting the dog's extra limb amputated Thursday before the zany proprietor could stop her.

Allyson Siegel, 45, called the animal hospital late Wednesday when she learned freak show impresario John Strong was trying to lay legal claim to Lilly, a 7-week-old Chihuahua-terrier mix.
Read more: http://www.nydailynews.com/ny_local/2009/07/23/2009-07-23_fight_over_fivelegged_puppy_coney_island_freak_show_owner_says_he_made_deal_for_.html#ixzz0MB9cfOQF
Update 7/23: The owner of the Coney Island show that tried to buy Lilly, the five-legged dog, is threatening legal action to get her.
The Charlotte Observer quotes the freak show owner John Strong:
"It's like a guy who sells you a car and then later tells you he's going to sell it to someone else," Strong told the Observer Wednesday. "I was the original owner -- it doesn't matter if it's a five-legged dog, a house or a car."...

"Sometimes, you just gotta say: 'OK, I still have nine live, two-headed animals,' and move on."
---
Earlier:
CHARLOTTE, N.C. (AP) -- A five-legged puppy could soon walk normally, thanks to a North Carolina woman who paid $4,000 to prevent Precious from becoming part of a New York sideshow.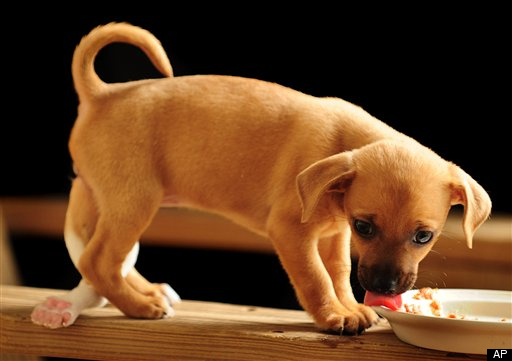 The Charlotte Observer reported Saturday that Allyson Siegel, 45, of Charlotte bought the puppy last week because she couldn't bear for the Chihuahua-terrier mix to be sold to a Coney Island, N.Y., sideshow that features disfigured animals.
Siegel renamed the puppy Lilly and plans to spend an additional $2,000 to get the extra appendage removed. Surgery is set in two weeks. The fifth leg, which trips Lilly as she tries to walk, hangs limply between the puppy's two back legs.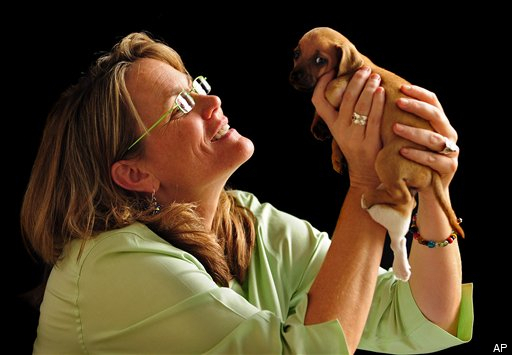 Otherwise healthy, the puppy was born in a litter of six at Calvin Owensby's Chihuahua Diamond in Gastonia about six weeks ago.
The paper reported that sideshow owner John Strong, who heard about the puppy through a friend, had paid Owensby $1,000 as a deposit on a $3,000 agreement. Owensby, an electrician unemployed since December, said he needed the money.
But local reports of the planned sale caused an uproar among animal activists.
"I just called him and I said, 'How much?'" Siegel told the newspaper, adding that her motto is, "Don't do to animals what you wouldn't do to your kids."
Following the surgery, Siegel -- who already has six cats -- plans to give Lilly to her sister in Charlotte.
Strong, who got his deposit back, said he would have given Lilly a good life. Though he's disappointed, he said, "Sometimes, you just gotta say, 'OK, I still have nine live, two-headed animals' and move on."
MORE:
New York
,
Anatomical Wonders
,
Coney Island
,
Coney Island New York
,
Coney Island Sideshow
,
Five Legged Dog
,
Five Legged Puppy
,
Coney Island Freak Show
,
Coney Island Freakshow
,
Lily Five Legged Dog
,
Lily The Dog
,
Disfigured Animals
,
Disfigured Animal
,
Coney Island Lily
,
5 Legged Puppy
,
Allyson Siegel
,
5 Legged Dog