Ed Hardy "designer" Christian Audigier, who was recently photographed alongside a penis sculpture and Jon Gosselin this summer, is--shock!--still shunned by the conventional fashion world. His clothes aren't carried in Barney or Saks and he's never shown at Fashion Week. But this doesn't seem to bother Audigier, who has been outfitting the "Jon & Kate Plus 8" father in Ed Hardy shirts all summer: As he explains to GQ:
"My demo is tabloid magazine. I am different from the other designer. Because what they say they hate, I love. They say they hate it but they always looking at it. We all look at OK! magazine. We pretend to don't be. But we all want to see."
In fact, Audigier takes full credit for being the first designer to clothe celebrities as a marketing strategy. But he still tries to keep his feet on the ground:
"People say I am a mégalo!" Christian said then. I think mégalo is French slang for, you know, narcissist. "I am not a mégalo. I am an artist. That's it. Putting my face on a poster. Going onstage. That is what artists do."
Photo by Mark Seliger/GQ: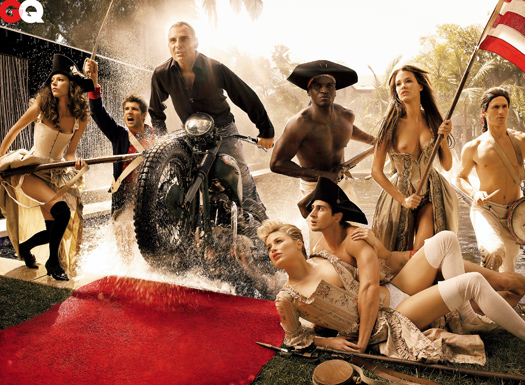 Follow HuffPost Style on Twitter and become a fan of HuffPost Style on Facebook!