France's Carla Bruni-Sarkozy took her first lady life online on Monday with her new website www.carlabrunisarkozy.org. A huge traffic surge initially crashed the site, but once the tech issues were resolved, we were able to delve into the mind of the former-supermodel-turned-musician-turned-politician's-wife. Here are some of the highlights:
The (official?) portrait of the first lady: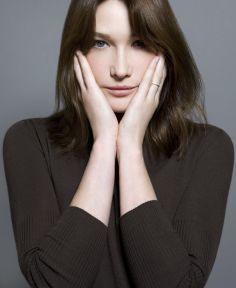 Courtesy of www.carlabrunisarkozy.org
With Queen Rania and Wendi Murdoch in New York, September 2008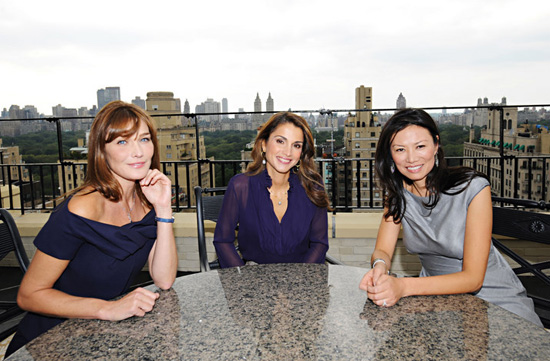 Dinner at the French military base in Chad, February 2008 (photo: Presidence de la Republique)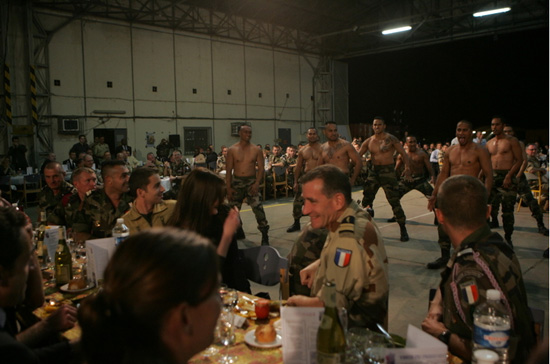 With Michelle Obama, April 2009 (photo: Claude Gassian)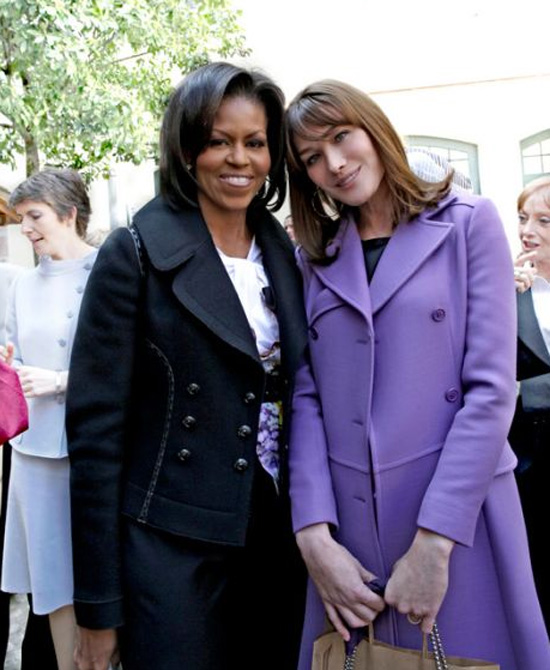 With her husband at the Guggenheim Museum in New York: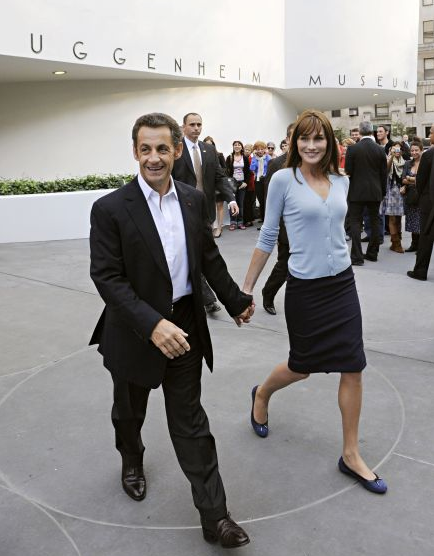 Her bio by Ludovic Perrin
In many places in the world, when you happen to hear the name "Carla" come up in conversation, there is a good chance that they are referring to Carla Bruni-Sarkozy. This was already somewhat true before. But since December 15, 2007, when she was spotted with the President of the French Republic, the movement has gained momentum. In a former life, when asked about what events had had an impact on her already seemingly romantic destiny, Carla Bruni would remember that she had been class president seven times. She also remembered getting up on stage dressed as a boy with her hair hidden under a cap, for an end of year show. It was her first public appearance. One parent was even shocked. The past two years have been the stage for events that are at least as noteworthy. What memories will France's current First Lady take away with her? Her State visit to the UK making her title official? Her trip to Burkina Faso after taking up her functions as ambassador for the Global Fund to Fight AIDS? The shot fired just a few meters away at Tel-Aviv airport on leaving Israel? This exposure to the cameras in life and death situations is unavoidable for anyone who has to face history with a cool head and a smile on their lips.

A recap of her trip to Pittsburgh with the other G-20 wives, including Michelle Obama. Carla stayed later at the Andy Warhol Museum, with only the curator, to fully take in the art.
An interview with Jean-Paul Gaultier. The designer looks back on his career and discusses dressing Madonna, the issue of school uniforms, and 'disposability' as a contemporary luxury. When asked, "Is there such a thing as bad taste?" Gaultier responded, "Fashion is not in a position to say so."
A brief article on the Mandela Day concert where Carla performed on July 18 in New York City.
We don't know about you, but we're adding this site to our bookmarks!
Follow HuffPost Style on Twitter and become a fan of HuffPost Style on Facebook!
SUBSCRIBE TO & FOLLOW LIFESTYLE
We're basically your best friend… with better taste. Learn more