HuffPost's No Impact Week is here, where together with the No Impact Project we're examining and reducing our environmental footprint. Click here to find out more and click here to read the guide. Tuesday is Day 3, which spotlights transportation. Send us photos and video of the alternative ways you are traveling during No Impact Week. Whether you're biking to work, taking the bio-deisel car to drop your kids off at school, trying out public transportation, carpooling for the first time, walking or rollerblading -- we want to see it.
Check out this photo of a number of environmentally inclined members of the HuffPost New York office who biked to work this Tuesday. Four of us who rode from Brooklyn stopped on the Manhattan Bridge to document the occasion. (from left to right: Mathew Palevsky, Citizen Journalism Editor; Katherine Goldstein, Green Editor; Nathan Karp, Blog Intern; Rick Ochoa, Senior Sysadmin)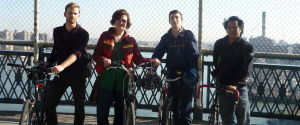 You can upload your own green transportation photos, or video, below.
Here's how it works:
If you are sending a photo, hit the participate button, leave your description and mark the location of where you are by searching for an address in the box on the top right of the map, upload your photo and write a caption describing the purchase and hit submit. Thank you!
Upload your one-minute video below. Your clip will be submitted directly to HuffPost, but you'll need a YouTube account. The deadline for submissions is Wednesday at 5pm EST.
To Sign Up For HuffPost's No Impact Week Click Here!