Why do people love to hate fashion? There was a lot of finger pointing in an attempt to answer the age-old question at the 92nd Street Y on Wednesday night. At "The Future of Women's Fashion" discussion moderated by Glamour magazine Editor-in-chief Cindi Leive, Washington Post fashion editor Robin Givhan and designers Isaac Mizrahi and Ashley Olsen tossed around a couple of ideas, including one sports analogy.
"In the U.S. you don't think of fashion in the same category as other forms of visual arts...you don't put it in the same category as painting or sculpture," Givhan explained. "People condescend to fashion because it's a women's industry. No one would ever say that spending thousands of dollars for football season tickets is a waste of time and shallow and ridiculous, but a woman willing to spend $25,000 or $5,000 on a dress is somehow just being pretty."
Her comments were met with a round of applause worthy of a game-winning touchdown and elated gasps from Mizrahi. The assorted audience of high-heeled twentysomethings, aging New York ladies who've seen it all, and even a handful of curious men, were treated to the group's insights on an industry that is arguably out of -- or totally under -- control. The two designers naturally thought things were going sartorially swimmingly.
"I think it's never been a better time for people, for designers and for people buying clothes," Mizrahi said. "Perhaps it's not a good time for greedy people who want to make tons of money...and I think it's great because for years designers and merchants and customer were saying, 'What is this? It's getting out of hand.' And what we're going through now is a real necessity to get us to [an industry] that will actually function."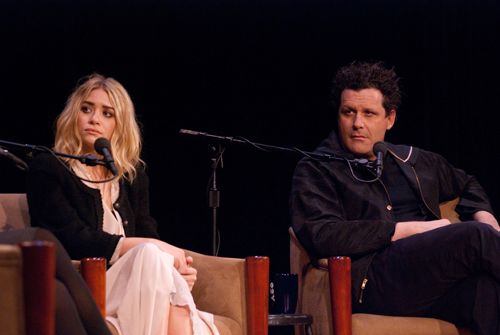 Joyce Culver for the 92nd Street Y
Olsen concurred, noting, "There's so much opportunity out there for people my age."
But Givhan, speaking from a shopper's perspective estimated that on a scale of one to ten, the current state of fashion is a three or a four.
"For a long time the fashion industry was kind of just coasting on trendy handbags and trendy shoes. I think this time is really forcing people to rework the whole structure of the fashion industry and a huge part of that is teaching customers what's really valuable," she said.
And who better to impart such style lessons than America's own First Lady Michelle Obama? Although Givhan argues against an overarching 'Michelle Obama Effect,' ("No one raced out and bought $2,000 Jason Wu dresses"), she thinks the FLOTUS has set a great example for women over the age of 30:
"She's shown you can incorporate fashion into your life in a way that really works and doesn't make you look silly and that doesn't necessarily negate your IQ." Givhan also mentioned Obama's hand in shifting the female professional uniform from boxy suits to tasteful dresses.
"She's an actual woman. She isn't a tiny size. She isn't a huge size. She's a real size," Mizrahi added.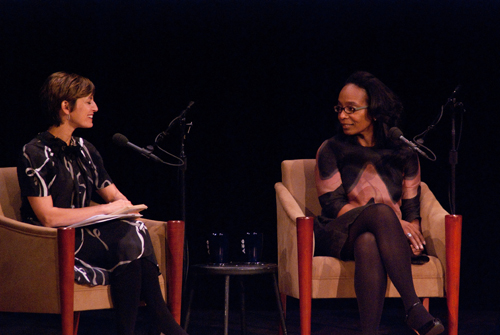 Joyce Culver for the 92nd Street Y
"What has struck me is that for all of the complaining and the blogging about how thin models are no one is not buying clothes from designers who use thin models," Givhan said. "The only thing that has stopped them from buying is the economy, not because they were reacting to the images they were seeing."
Mizrahi agreed: "Fashion advertising is hateful, yet they wouldn't do it if it didn't work."
Givhan did extend a compliment to the fashion magazine business, which she views as trying to help customers find ways to indulge during the recession and celebrating style.
So then what, exactly, is the future of fashion?
"It's going to be more democratic," Givhan said.
"It's going to be less obvious and less visual. More about fetishes. More fetishistic!" Mizrahi exclaimed.
Olsen responded with perhaps the most promising words.
"It's going to be more exciting. And more fun."
Read more about the panel HERE.
Who Is The Ultimate Game Changer In Style? VOTE NOW!
And follow HuffPost Style on Twitter and become a fan of HuffPost Style on Facebookwhile you're at it.
SUBSCRIBE TO & FOLLOW LIFESTYLE
HuffPost Lifestyle is a daily newsletter that will make you happier and healthier — one email at a time. Learn more