A Huffington Post analysis of recent mortgage-modification data shows that even those relatively few homeowners fortunate enough to renegotiate their loans are almost never getting lenders to forgive any of the principal. Instead, monthly payments are being cut either by lowering inflated interest rates, extending the duration of the loan repayment, or simply postponing the day of reckoning by setting up large balloon payments decades down the line.
Furthermore, President Obama's much heralded $75 billion plan to prevent foreclosures is essentially limited to people who still hold a job -- leaving many of the approximately 10 percent of Americans who are unemployed with no more options than they had before.
In short, there is some relief for homeowners who haven't lost their jobs and were paying high interest rates - but not so much for people who've lost their jobs, bought a house that they can't afford, or now have significant negative equity due to the bursting of the housing bubble. For them their burdens remain.
The relative failure of Obama's plan is a particular disappointment, consumer advocates say. After spending hundreds of billions of dollars in bank bailouts, the administration proposed a plan that would pay mortgage servicers for successfully modifying eligible delinquent home loans. Investors that owned securitized mortgages that were modified would get paid, too. Most importantly, distressed homeowners would get to keep their homes.
Despite the incentives, the program hasn't been a roaring success. The administration originally said it would "help up to three to four million at-risk homeowners avoid foreclosure by reducing monthly mortgage payments." Thus far, about 500,000 homeowners have been placed in three-month trial plans. Though it's still early on (the program was launched in March), as of Sept. 1 only 1,711 of the trial modifications had become permanent.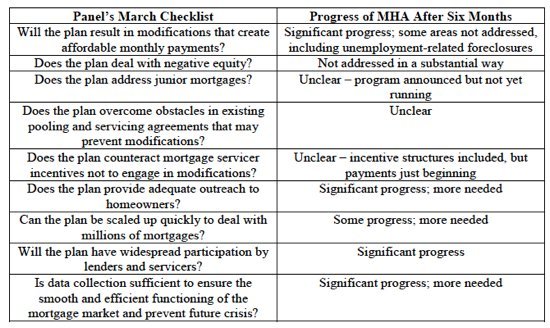 For those lucky enough to get a permanent modification, principal forgiveness is not in the cards. While interest rates are being brought down, as are monthly payments (on average a $500/month decrease), the overall amount owed isn't changing.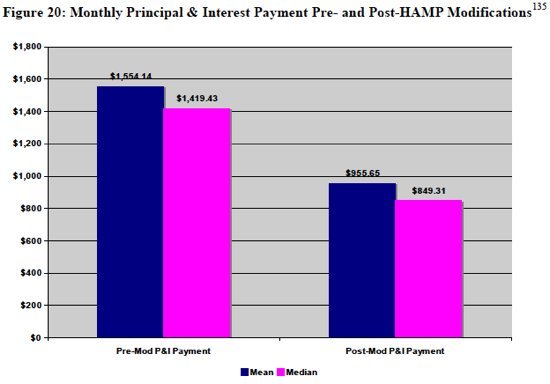 In fact, in some cases the amount of the loan is actually going up. That's because the life of the loan is expanding. Rather than reducing the overall amount owed, lenders and servicers are mostly lowering the monthly payment (temporarily) and making borrowers pay for longer. So instead of having 20 years left on a mortgage, for example, it could be 25 years. Loan modifications outside of the government's program are no different. Principal forgiveness is rare, and virtually non-existent in securitized mortgages.
In fact, balloon payments -- instances when a large amount of the money owed is due at the end of the mortgage in full -- are more common than principal forgiveness. From data on modifications of securitized home mortgages, courtesy of Fitch Ratings: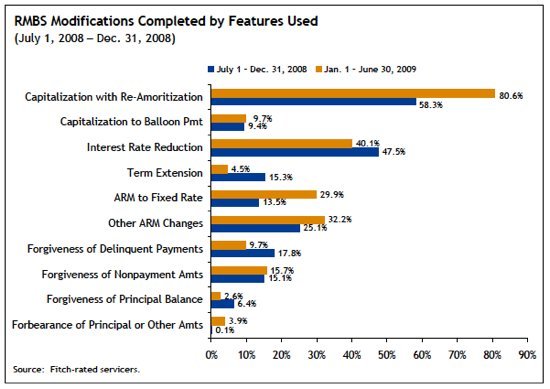 All of this suggests that investors and lenders are willing to take the hit for having enabled and charged high interest rates -- but are still refusing to take responsibility for having underwritten excessively large loans, at overly inflated prices.
More bad news comes from a recent report from the Congressional Oversight Panel, which concluded that "it increasingly appears that [the program] is targeted at the housing crisis as it existed six months ago, rather than as it exists right now."
What's changed is the rising unemployment rate. Because eligibility under Obama's plan requires certain levels of income (depending on one's monthly mortgage payment), the unemployed -- without other sources of cash -- could be shut out.
And the panel doesn't expect the modification rate to go up, seeing as "servicers may initially move to modify the easiest surest cases, and the most motivated and organized homeowners are likely to be among the earlier applicants."
And unfortunately, in the end, a significant number of modified loans will eventually re-default. A sobering chart: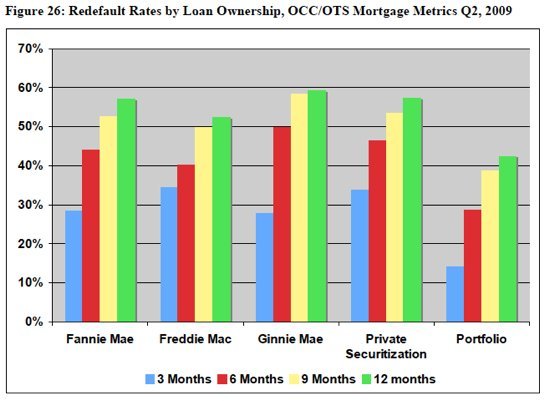 And don't expect anyone to ride to the rescue. Freddie Mac, the agency empowered to police the Obama plan -- like getting to the bottom of why otherwise-eligible homeowners are getting rejected for loan modifications -- is falling down on the job, according to a recent government watchdog report described by the nonprofit investigative news organization ProPublica.
SUBSCRIBE TO & FOLLOW THE MORNING EMAIL
The Morning Email helps you start your workday with everything you need to know: breaking news, entertainment and a dash of fun. Learn more