And the winner is... Ford Motors.
Of all of the stocks in the Standard & Poor's 500 index, Ford has shown the biggest leap in value since President Obama's election last November. If you were fortunate enough to invest in the only Detroit automaker to avoid a government bailout last year, you would have earned a stunning 249 percent return on your investment.
We've compiled a list of the best performing S&P stocks since Obama's election - courtesy of Bespoke Investment Group. And, while it's always dangerous to draw inferences based on the vagaries of the stock market, Ford, which recently posted a $1 billion profit, has undoubtedly received a boost government's multi-billion dollar bailout of its Detroit rivals.
Interestingly, Goldman Sachs is the only top financial services firm in the best performers -- which may not surprise critics of the investment behemoth who are sure to spin conspiracy theories about its close ties to government officials. Likely buoyed by comparison shoppers, Amazon's stock has doubled during the downturn, as has the stock price of bargain travel site, Expedia.
Check out the top 25 performing stocks: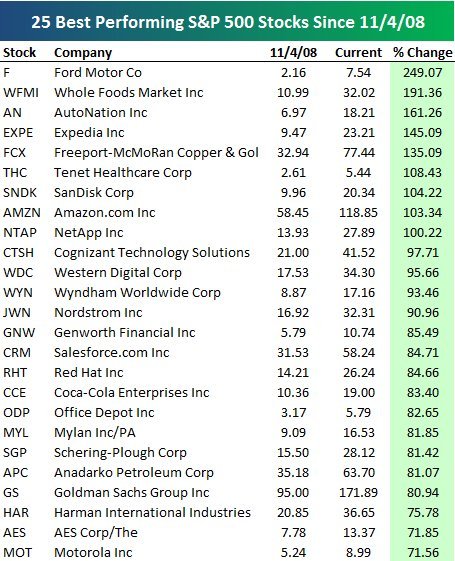 (Bespoke Investment Group)
Over the last year investor's have clearly placed an enormous amount of faith in technology stocks -- and, not surprisingly, the financial sector got hammered.
So, one year after the election, what do you think Candidate Obama would think of President Obama? Tweet your response (our Twitter hashtag is #OneYearLater), or post it in the comments section.