Cartman's Best Musical Moments: 13 Songs That Prove South Park's Song Superiority (VIDEO)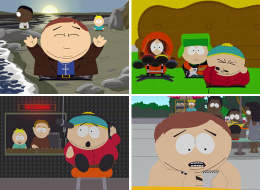 1) "Poker Face": Cartman does his best Lady Gaga rendition on Rock Band, with an added verse about his problem with Stan.

2) "The German Dance": Chef Aid is in danger when the boys only have one act, and it's Cartman in lederhosen doing a "German Dance."

3) "O Holy Night": Cartman tries to be sweet during the holidays by singing "O Holy Night," but he digresses into presents and pies.