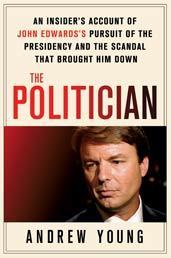 The underside of modern American politics -- raw ambition, manipulation, and deception -- are revealed in detail by Andrew Young's riveting account of a presidential hopeful's meteoric rise and scandalous fall. Like a non-fiction version of All the King's Men, The Politician offers a truly disturbing, even shocking perspective on the risks taken and tactics employed by a man determined to rule the most powerful nation on earth.
In her memoir, Elizabeth Edwards described an "obsessed" and "overbearing" young volunteer who made himself indispensable. She and her husband were the victims, she said, guilty only of "being vulnerable to obsequiousness."
SUBSCRIBE AND FOLLOW
Get top stories and blog posts emailed to me each day. Newsletters may offer personalized content or advertisements.
Learn more