Last week watchmaker Tag Heuer said it would reduce Tiger Woods' presence in the company's advertising. While pleading to continue its relationship with the golfer, Tag Heuer said it would "downscale" Woods. Just several days later, however, the watchmaker's web site is proudly backing the embattled star. The front page splashes a large image of Woods gazing intently and holding a Tag Heuer watch. In large print next to the picture is the text "TAG HEUER stands with TIGER WOODS." Scroll down for a screen grab.
Woods has not been as lucky with some other sponsors. Gatorade discontinued its Tiger Focus beverage, while Accenture prominently dropped its highly prominent Woods advertisements. Gillette is limiting Woods in its marketing and advertisements featuring the golfer have vanished from TV. Scroll down to see Tag Heuer's Tiger message.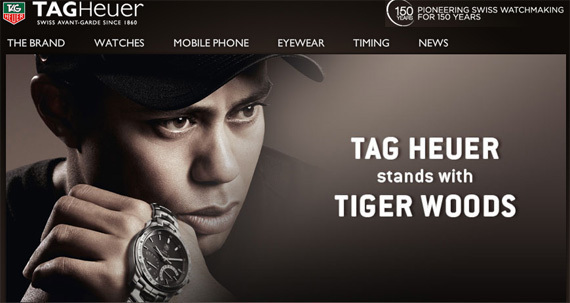 Women linked to Tiger Woods:
Photographs of the storied clients that Rachel Uchitel's attorney has represented over the years.
SUBSCRIBE TO & FOLLOW THE MORNING EMAIL
The Morning Email helps you start your workday with everything you need to know: breaking news, entertainment and a dash of fun. Learn more