Never Give Up: How The Son Of A World Trade Center Hero Decided Nothing Would Keep Him Down
The Rhodes Scholarship competition, Glavin liked to say, was the Olympics of academia. "You must be literally peerless," Glavin said. "When people look at the best and the brightest of your generation, you stand head and shoulders above even them." To win, candidates had to be comfortably literate in a full sweep of topics and disciplines, Glavin said.
Early on, Glavin spotted a weakness in Joey's candidacy: while he was clearly a bright guy, Joey lacked the cultured polish that the Rhodes committee craved. Glavin once told Joey in an email he came off as, "an emotion-driven, man-of-the-street type who seemed never to have read a book or thought through a complex problem." Joey was raised in a firehouse. He worked nights at a bar and spent afternoons on the ball field. Even in college, Joey preferred a Notre Dame football game to a Fyodor Dostoevsky novel.
To fill these gaps, Joey visited Washington, D.C.'s museums and art galleries. He read the poetry books Glavin gave him. But despite his efforts, he was incapable of developing a genuine appreciation for fine art or opera. Joey's artistic illiteracy made him feel vulnerable as the process carried on.
Joey was one of seven Georgetown students to receive a faculty endorsement for the Rhodes in 2007. "But Joe is, in fact, the only candidate to be endorsed during my years as Fellowship Secretary who did not make first contact with our office," Glavin later told the Rhodes committee.
* * * * * * * * * *
Two weeks after Joey's endorsement interview, Glavin told the students that the next four months would be the most crucial period of their candidacy. "No one in this year's group (or indeed in any year's group that I have seen) could possibly be a serious candidate based on where they are in the process right after endorsement," Glavin said in a letter emailed to candidates. "Now you have to go out and really achieve."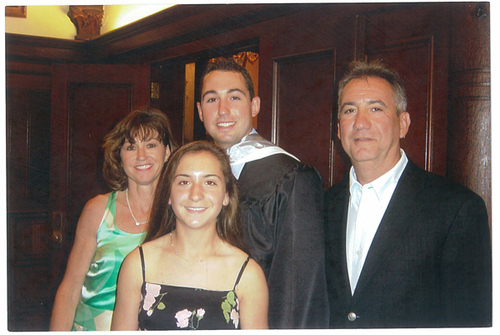 Joey with his mother, father, and sister on the day of his graduation from Georgetown.
In May of 2007, Joey graduated from Georgetown, summa cum laude. (His cumulative grade point average was above 3.9.) That summer, Joey began working as a paralegal at Patton Boggs, a Washington, D.C. law firm. He billed 40 hours a week, coached a baseball team, and connected up with a former Army officer to do pro bono work for disabled veterans who had been denied medical benefits. In every free moment, Joey worked on Rhodes materials.
To keep on top of current events, Joey read The New York Times cover to cover every day. He studied books on subjects like public speaking -- "Speak Like Churchill, Stand Like Lincoln," by James Humes -- and presenting compelling thoughts -- "Made to Stick: Why Some Ideas Survive and Others Die," by Chip and Dan Heath. He stayed in the library through the night, plumbing the details of veteran's health care policy, and gathering statistics. The Department of Veterans Affairs has a backlog of 400,000 disability claims? For soldiers' perspectives he spoke with military veterans in the U.S. and the United Kingdom. All the while, he was in regular communication--in person and over email--with Glavin.
Meanwhile, Joey met with Sam several nights a week to review news events and knock around ideas for improving the veteran's health care system. Although Joey felt pressured by Glavin to project a more worldly image, Sam urged him not to pretend to be someone he wasn't. That would defeat the whole purpose of the experience.
To friends, Joey had vanished. Once, his college teammate Nick Barnicle stopped by his basement apartment. "There was nothing in the fridge, copies of The New York Times were piled high," Barnicle said. "He was just grinding every day, going through documents and reading materials, digging up all the op-ed writers."
At that point, Joey's most important task was his personal statement, which was due to the selection committee in early October. "Every paragraph has to dazzle; every sentence has to sparkle," Glavin said in an email.
Among other things, the Rhodes personal statement requires applicants who are still in their early 20s to map out the rest of their lives. To do so, candidates must first take an incisive look at themselves, pinpointing the very ideals that make them tick. Glavin's preparation process "starts out sort of being about the competition, and then over time people figure out that it is about something much greater," a former Georgetown candidate said.
After intense self reflection and conversations with Sam, Joey told Glavin that his long-term plan was to attend Georgetown Law School and join the military as a member of the Judge Advocate General's Corps.
Glavin's reaction was startling. I "have to ask you whether -- and indeed why -- you continue to be committed to the Rhodes," Glavin said in an email. "I don't quite see how Oxford would contribute anything significant to what seems now to be your career path -- GU Law -- Army JAG etc... I don't think we should continue until you decide that you have gone on beyond a plan that could use Oxford or you can make clear how a specific Oxford degree would be of real use to you."
But after Joey explained that joining the military would allow him to serve veterans more effectively, Glavin relented.
"OK, Joe!!! It all makes sense now," Glavin said in an email. "JAG so you can represent Vets as yourself a Vet. Indeed. It's a strong paper case."
Joey wrote and rewrote his personal statement more than 100 times. He worked through tricky sections with Sam and got written feedback from Glavin. ("I think this draft is on the whole a SERIOUS step backward," Glavin said in an email.) But by October 1, Joey and Glavin were satisfied.
* * * * * * * * * *
Once the paper portion of the application had been completed, Glavin turned to the interview. A fellowship interview, Glavin explained, resembles a game of squash. Nearly any topic is fair game -- what's the best idea of the 20th Century? -- and as soon as you handled one question, the next is on its way -- are we, as a society, too ironic to make good art? There is no singular correct answer, but there are plenty of lousy ones. Fellowship judges use the interview to determine a candidate's breadth and depth of knowledge, how they think on their feet, and react when challenged.
To get students ready for the inquisition, Glavin organized a series of mock interviews. He invited Georgetown professors and prominent figures from around Washington, D.C. -- including former fellowship winners -- to grill the students, one at a time, just as the fellowship committees would. Joey made the short trip from the Patton Boggs office to Georgetown's campus to attend. Most interviews were filmed. Afterwards, candidates would review the tape and receive detailed feedback from Glavin and others. "Joe, I know I put the water in front of you, but you should not drink from it. Not during the interview," Glavin's assistant told Joey in handwritten notes after an October 17 mock interview.
Glavin's judgment could be withering. "[O]f the seven disastrous performances we saw on Monday night yours was in many ways the worst," Glavin told Joey in an email. "There was [a] tetchy, ungenerous truculence about it -- a surprising lack of charm, of warmth of [energy]. You brought nothing into the room."
Still, when he learned Joey had been selected as a Rhodes finalist, Glavin's pride was apparent. "Congratulations, Joe," Glavin said in a November 1 email. "You worked very very hard to earn this."
Glavin's affection for his candidates became increasingly visible as the final interviews neared. When one fellowship candidate couldn't afford an appropriate dress shirt or tie for his final interview, Glavin had his assistant take him to Brooks Brothers so he could look his best.
"OK, here's where I get paternal and almost weepy," Glavin said in an email dated November 14, two days before Joey's Rhodes interview in New York. "I have come to love and admire each of you. You've done terrific things for and with us here -- nothing of course compared to the terrific things you will still do, whatever the outcome of this weekend. I believe in you...We could not be fielding a finer squad."
II
After his interview with the panel in the dark hotel room, the waiting began. As the hours passed, other candidates grew cozy. But Joey kept his eyes fixed on his notes. There was always a chance the committee would ask certain candidates to reinterview, and Joey wanted to be prepared. Soon, candidates snuck into a nearby room set up for a bar mitzvah to play ping pong and pop-a-shot basketball. Eventually, Joey joined them.
About 4 p.m., the committee summoned the candidates into the dining room. Some sat down, others remained standing. Dodyk moved to the front of the table.
We're going to make this quick, Dodyk said. There is no reason to keep you waiting any longer.
The committee had selected two Stanford graduates, Laurel Gabler of East Hampton, N.Y., and Scott Thompson of the West Village of Manhattan. The winners were to join the committee in the interview room. Everyone else, good luck.
"In some ways, it seems like [the committee] kind of picked a couple people that reminded themselves of each other," said one candidate who did not receive the fellowship. "It was a little bit disappointing."
Most candidates took the news gracefully; everyone knew their odds were thin. Several even headed out for a drink together. (Two of whom, in fact, would later that night be cited by police for drinking in public.)
But Joey was devastated. He slinked back to his hotel room to give Glavin the disappointing news.
You've represented Georgetown well, Glavin told Joey. You should be proud.
Along with other friends, Headfirst Director Sullivan had made the trip from Washington, D.C., to New York for what he hoped would be an evening of celebration. Joey went out with his friends, but left the bar an hour later.
The following morning, Joe Sr. picked up his son from the hotel. Together, they drove back to Floral Park.

Epilogue
After learning that he had not won the Rhodes Scholarship, friends and family drenched Joey with support. "Arguably the worst decision since the Portland Trailblazers decided to select Sam Bowie instead of Michael Jordan with the second pick of the 1984 NBA draft," the parents of a baseball player Joey had coached said in an email. "What was the selection committee thinking?"
Joey had quit his job at Patton Boggs a week before the interview. On Dec. 1 he would leave for the Dominican Republic, where he had a volunteer position at a baseball and literacy program in an impoverished town. A couple days after the Rhodes interview, he returned to Washington, D.C. to pack up his apartment. While he was in town, Joey stopped by Glavin's office with a bottle of Scotch, a token of gratitude for his tireless fellowship advisor.
Glavin asked Joey if he would consider applying for a different fellowship the following year. Perhaps a Mitchell or a Marshall.
Although Glavin's criticism had been rough, Joey considered the Rhodes preparation process the most formative part of his Georgetown education. He better understood himself and he knew what he wanted from life. But Joey was exhausted and couldn't imagine putting himself through the process again.
It's too soon, Joey told Glavin.
* * * * * * * * * *
In the early afternoon of Saturday, November 21, 2009 -- two years after his Rhodes interview -- Joey found an open seat at the bar in The Dupont Hotel in Washington, D.C. With his Mitchell Scholarship interview now over, the possibility of making it all the way to the finals -- and losing again -- filled him with dread. The selection committee was still deliberating. So Joey watched the Michigan-Ohio State football game with the other candidates in the bar.
The prestigious Mitchell Scholarship program sends up to a dozen Americans to Ireland each year. Joey's competition included a Navy Midshipman who won the Purple Heart and the author of an amendment to Congressional health care legislation.
Joey decided to apply this past spring. His six months in the Dominican Republic had been his first experience out of the country, and now he couldn't wait to get overseas again. If he won, Joey would have to take a year off from Georgetown Law, which he started in 2008. But a Mitchell Scholarship would allow him to study the veteran's health care system in Ireland and determine which components could be applied to the United States. And the chance to come back from one more disappointment motivated Joey as well.
Joey went through the process with Glavin once more -- writing and rewriting statements, mock interviews, critiques. And although law school prevented him from preparing as rigorously as he wanted, he learned he was a Mitchell finalist in October 2009.
The eight members of the Mitchell panel were seated around a horseshoe-shaped table. "Why do you want to join the Marines?" one panelist asked. "Haven't you done enough damage to your body?"
Not even Joey's mother could talk him out of signing up for the military. His service would be a way to repay the nine firefighters who died on Sept. 11. Moreover, if he really wanted to serve veterans, Joey believed he had to become one himself. Joey told the panel he chose the Marines because the branch would allow him to go through basic training like any other enlisted soldier. And it was important for him to experience the same boot-camp hardships as the young Americans he would one day command.
Joey's enlistment had been held up by the injuries he sustained playing baseball, but his plan was still to serve, then continue advocating for disabled veterans -- perhaps one day serving as the head of the Department of Veterans Affairs.
Unlike the Rhodes, the Mitchell committee notifies its recipients by phone after making its selections. When the football game ended, Joey headed home.
Around 4:30 p.m., his phone rang.
* * * * * * * * * *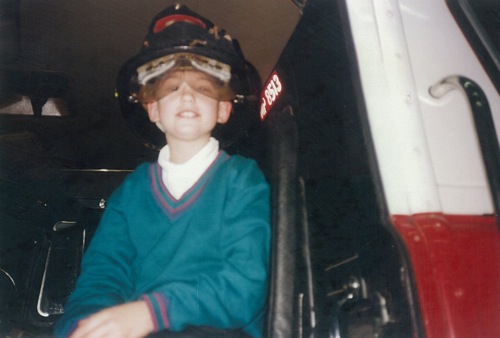 Joey sits in his father's fire truck with a fireman's helmet on.
Joey usually only went to Kelly's Irish Times after completing his final exams for the semester. But on that night, the old Washington, D.C. pub seemed like the most appropriate place to invite friends for drinks.
"How much Jameson do you have?" Joey asked the bar tender.
The bar tender pulled a three-quarters-full bottle off the shelf and showed it to Joey.
"Keep 'em coming until it's gone," Joey said with a smile.
* * * * * * * * * *
See a slideshow of Joey's story: