I'm With Coco: Internet Rushes To Conan's Side (VIDEO)
Since the news broke that Jay Leno was losing his 10p show and moving back to late night, bumping Conan from his 11:30p slot, the Internet has been up in arms. Facebook groups like Team Conan and I'm with Coco have sprung up, boasting thousands of members. Twitter has been deluged with the hashtag #teamconan (there are very few #teamjay posts). And sites like Consumerist have published email addresses of NBC executives so that readers can protest.
Even celebs have voiced their support for Conan on the Web. "My heart belongs to Conan!" tweeted Alison Brie, an actress on NBC's "Community." When O'Brien announced he wouldn't be taking the 12:05am slot after Jay, Alyssa Milano responded, "Dear Conan, Good. For. You."
Others have taken a more visual approach. Buzzfeed is suggesting users upload pictures of themselves with Conan's hair. "...be sure to say something mean about Jay Leno," they added.
Artist and fan, Mike Mitchell, made this portrait for free use across the Internet. He's encouraging fans to post it to their blogs and Twitter accounts.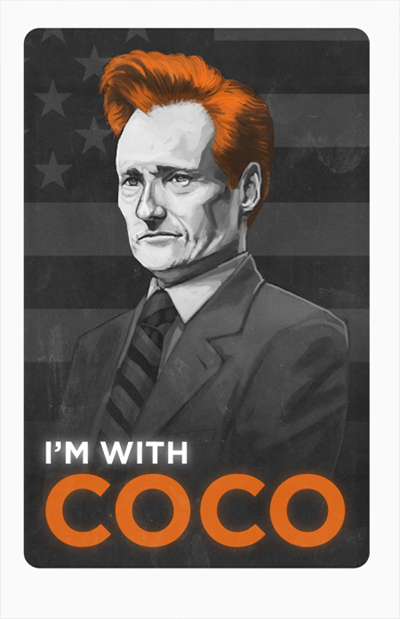 Oh No They Didn't made a similar image, with Conan posed as Rosie the Riveter.