How does billionaire Bill Gates feel about the economy? Not good--because it's improving.
At least, that's if you believe CNBC. The Business Insider snapped a surprising summary by CNBC of Bill Gates' current outlook on the economy.
In the picture below, check out CNBC's on-screen synopsis of Gates' 'world view:'
Under a shot of the Microsoft billionaire looking serious and thoughtful, the caption reads,
Bill Gates: It's unfortunate, but things are beginning to look up.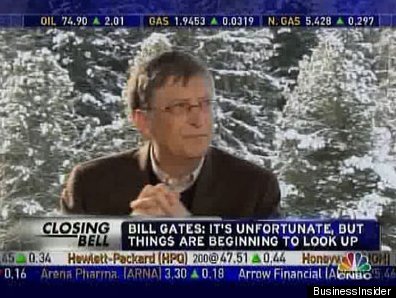 We haven't seen the CNBC segment during which this appeared, but if you have, email us the video at the address below!
SUBSCRIBE TO & FOLLOW THE MORNING EMAIL
The Morning Email helps you start your workday with everything you need to know: breaking news, entertainment and a dash of fun. Learn more