Tiger Woods-themed golf balls that depict the golfer's alleged mistresses have upset at least one of the women in the set. Porn star Joslyn James (PHOTOS, VIDEO), who is wanted in Washington state, says the balls are "wrong."
"As a victim of violence myself, it bothered me to think that someone would be standing with a dangerous club in their hands and hitting a ball with my face on it," she added.
Gloria Allred, the lawyer who has represented at least two alleged mistresses in addition to a host of famous clients, is also unhappy about the golf balls.
Scroll down to see a picture of the ball with Joslyn James.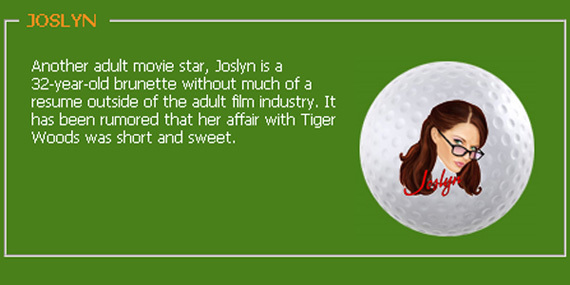 Women linked to Tiger Woods
Emma Rotherham allegedly had early-morning sex on Woods' office couch. Tiger reportedly loved to see her in black stockings and suspenders.
Julie Postle (PHOTOS) allegedly met Woods when she worked as a cocktail waitress in Orlando. Tiger was reportedly "obsessed" with Postle and "really hunted" her. She was also photographed in a bikini.
Theresa Rogers has been described as a "cougar" who allegedly boasted that she taught Tiger "everything he needed to know to be a great lover." She reportedly conceived a baby while she was seeing Woods, but an article suggests she believes the father is a Serbian basketball player she was also seeing at the time. According to another article, Woods told Rogers that he only married Elin Nordegren to boost his image. The 40-something Rogers may have negotiated a payoff in exchange for her silence.
SUBSCRIBE TO & FOLLOW THE MORNING EMAIL
The Morning Email helps you start your workday with everything you need to know: breaking news, entertainment and a dash of fun. Learn more