Chile's defense minister said Sunday that the navy made a mistake by not immediately issuing a tsunami warning after a mammoth earthquake, a step that could have helped coastal villagers flee to higher ground sooner.

Francisco Vidal said, however, that an alarm was later sounded by port captains. He said that saved hundreds if not thousands of lives.

"The navy committed an error in not alerting the tsunami," Vidal said at a news conference.

Immediately after Saturday's magnitude-8.8 quake, President Michelle Bachelet played down the threat of a tsunami, saying large waves were expected but no tsunami.

However, several coastal communities were smashed into by what authorities later recognized were tsunami waves.

Vidal said that fortunately the navy has an emergency plan that allows navy officials in each port to sound alarms automatically when a rise in the sea is observed without waiting for an order from above. In this case, port captains sounded an alarm alerting coastal populations.

"With this system, in spite of the diagnostic error, the people could be warned to head to the hills," Vidal said.

Thirty minutes passed between the quake and waves that inundated coastal towns.

Many of the more than 708 known dead from the quake were in Chile's coastal regions swamped by the tsunami. Among those hit were San Juan Bautista village on Robinson Crusoe Island, the port of Talcahuano and Vichato in the BioBio region.

The surge of water raced across the Pacific, leading officials in 53 nations to post warnings. But the waves proved small as they moved past Hawaii and on to such places as Australia, Tonga, Japan and Russia.
Looting has also began in Concepcion, a day after the main quake hammered the country and killed at least 300 people.

TV images showed looters carrying away boxes of food, washing machines and plasma TVs from stores in the city of Conception before police intervened.

'We have to eat something,' an unidentified woman told a TV reporter.
By ROBERTO CANDIA and EVA VERGARA

TALCA, Chile - One of the largest earthquakes ever recorded tore apart houses, bridges and highways in central Chile on Saturday and sent a tsunami racing halfway around the world. Chileans near the epicenter were tossed about as if shaken by a giant, and the head of the emergency agency said authorities believed at least 300 people were dead.

The magnitude-8.8 quake was felt as far away as Sao Paulo in Brazil -- 1,800 miles (2,900 kilometers) to the east. The full extent of damage remained unclear as dozens of aftershocks -- one nearly as powerful as Haiti's devastating Jan. 12 earthquake -- shuddered across the disaster-prone Andean nation.

President Michelle Bachelet declared a "state of catastrophe" in central Chile but said the government had not asked for assistance from other countries. If it does, President Barack Obama said, the United States "will be there." Around the world, leaders echoed his sentiment.
In Chile, newly built apartment buildings slumped and fell. Flames devoured a prison. Millions of people fled into streets darkened by the failure of power lines. The collapse of bridges tossed and crushed cars and trucks, and complicated efforts to reach quake-damaged areas by road.

At least 214 people were killed and 15 were missing as of Saturday evening, Bachelet said in a national address on television. While that remained the official estimate, Carmen Fernandez, head of the National Emergency Agency, said later: "We think the real figure tops 300. And we believe this will continue to grow."

Bachelet also said 1.5 million people had been affected by the quake, and officials in her administration said 500,000 homes were severely damaged.

In Talca, just 65 miles (105 kilometers) from the epicenter, people sleeping in bed suddenly felt like they were flying through major airplane turbulence as their belongings cascaded around them from the shuddering walls at 3:34 a.m. (1:34 a.m. EST, 0634 GMT).

A deafening roar rose from the convulsing earth as buildings groaned and clattered. The sound of screams was confused with the crash of plates and windows.
Then the earth stilled, silence returned and a smell of damp dust rose in the streets, where stunned survivors took refuge.

A journalist emerging into the darkened street scattered with downed power lines saw a man, some of his own bones apparently broken, weeping and caressing the hand of a woman who had died in the collapse of a cafe. Two other victims lay dead a few feet (meters) away.
Also near the epicenter was Concepcion, one of the country's largest cities, where a 15-story building collapsed, leaving a few floors intact.

"I was on the 8th floor and all of a sudden I was down here," said Fernando Abarzua, marveling that he escaped with no major injuries. He said a relative was still trapped in the rubble six hours after the quake, "but he keeps shouting, saying he's OK."
Chilean state television reported that 209 inmates escaped from prison in the city of Chillan, near the epicenter, after a fire broke out.

In the capital of Santiago, 200 miles (325 kilometers) to the northeast, the national Fine Arts Museum was badly damaged and an apartment building's two-story parking lot pancaked, smashing about 50 cars whose alarms rang incessantly.

A car dangled from a collapsed overpass while overturned vehicles lay scattered below. "I can now say in all surety that seat belts save lives in automobiles," said Cristian Alcaino, who survived the fall in his car.

While most modern buildings survived, a bell tower collapsed on the Nuestra Senora de la Providencia church and several hospitals were evacuated due to damage.

Santiago's airport was closed, with smashed windows, partially collapsed ceilings and destroyed pedestrian walkways in the passenger terminals. The capital's subway was shut as well, and transportation was further limited because hundreds of buses were stuck behind a damaged bridge.

Chile's main seaport, in Valparaiso about 75 miles (120 kilometers) from Santiago, was ordered closed while damage was assessed. Two oil refineries shut down, and lines of cars snaked out of service stations across the country as nervous drivers rushed to fill up.
The state-run Codelco, the world's largest copper producer, halted work at two of its mines, although it said it expected them to resume operations quickly, the newspaper La Tercera reported.

President-elect Sebastian Pinera angrily reported seeing some looting while flying over damaged areas. He vowed "to fight with maximum energy looting attempts that I saw with my own eyes."

The jolt set off a tsunami that swamped San Juan Bautista village on Robinson Crusoe Island off Chile, killing at least five people and leaving 11 missing, said Guillermo de la Masa, head of the government emergency bureau for the Valparaiso region. He said the huge waves also damaged several government buildings on the island.

Pedro Forteza, a pilot who frequently flies to the island, said, "The village was destroyed by the waves, including the historic cemetery. I would say that 20 or 30 percent has disappeared."

On the mainland, several huge waves inundated part of the major port city of Talcahuano, near the hard-hit city of Concepcion. A large boat was swept more than a block inland. Pinera flew over the area and said an unspecified number of people had died in Talacahuano.
Waves also flooded hundreds of houses in the town of Vichato, in the BioBio region.

The surge of water raced across the Pacific, setting off alarm sirens in Hawaii, Polynesia and Tonga and prompting warnings across all 53 nations ringing the vast ocean.

Tsunami waves washed across Hawaii, where little damage was reported. The U.S. Navy moved a half-dozen vessels out of Pearl Harbor as a precaution, Navy spokesman Lt. Myers Vasquez said. Shore-side Hilo International Airport was closed. In California, officials said a 3-foot (1-meter) surge in Ventura Harbor pulled loose several navigational buoys.

The first tsunami waves hit Japan's outlying islands early Sunday, but while the initial waves were small and most of the Pacific islands already in its path had been spared damage, officials warned a bigger surge could follow.

Japan's Meteorological Agency said the first waves were recorded in the Ogasawara islands. It was just 4 inches (10 centimeters) high. Another, measuring about 12 inches (30 centimeters), was observed in Hokkaido, to the north. There were no reports of damage.
About 13 million people live in the area where shaking from the quake was strong to severe, according to the U.S. Geological Survey. USGS geophysicist Robert Williams said the Chilean quake was hundreds of times more powerful than Haiti's magnitude-7 quake, though it was deeper and cost far fewer lives.

More than 50 aftershocks topped magnitude 5, including one of magnitude 6.9.
A tremor also hit northern Argentina, causing a wall to collapse in Salta, killing an 8-year-old boy and injuring two of his friends, police said. The U.S. Geological Survey said the magnitude-6.3 quake was unrelated to Chile's disaster.

The largest earthquake ever recorded struck the same area of Chile on May 22, 1960. The magnitude-9.5 quake killed 1,655 people and left 2 million homeless. It caused a tsunami that killed people in Hawaii, Japan and the Philippines and caused damage along the west coast of the United States.

Saturday's quake matched a 1906 temblor off the Ecuadorean coast as the seventh-strongest ever recorded in the world.
___
Associated Press writer Roberto Candia reported this story from Talca and Eva Vergara from Santiago. AP writers Eduardo Gallardo in Santiago and Sandy Kozel in Washington contributed to this report.
TOKYO - The first tsunami from Chile's earthquake has hit Japan's outlying islands, but the initial waves are small.

Japan's Meteorological Agency said the first tsunami to reach Japan after the magnitude 8.8 quake off Chile was recorded in the Ogasawara islands early Sunday afternoon. It was just 10 centimeters high. There were no reports of damage.

Officials warned that bigger waves could reach Japan's main islands, and kept up their alert for the nation's Pacific coastline.
TOKYO (Reuters) - Japan warned on Sunday that its northern Pacific coast faced a possible tsunami of 3 meters (10 ft) or more and ordered thousands of coastal residents to evacuate to higher ground, after a massive earthquake in Chile.

The tsunami could hit northern areas of Japan's main island of Honshu around 1 p.m. (11 p.m. EST), the Japan Meteorological Agency (JMA) said.

The affected coast, where around 140 people died in a previous tsunami 50 years ago, has many small harbors that will concentrate the force of a tsunami.
The U.S. Geological Survey says eight Haitian cities and towns -- including [Port-au-Prince] this capital of 3 million -- suffered "violent" to "extreme" shaking in last month's 7-magnitude quake, which Haiti's government estimates killed some 220,000 people and left about 1.2 homeless. Chile's death toll was in the hundreds.

By contrast, no Chilean urban area suffered more than "severe" shaking -- the third most serious level -- Saturday in its 8.8-magnitude disaster, by USGS measure. The quake was centered 200 miles (325 kms) away from Chile's capital and largest city, Santiago.

In terms of energy released at the epicenter, the Chilean quake was 501 times stronger. But energy dissipates rather quickly as distances grow from epicenters -- and the ground beneath Port-au-Prince is less stable by comparison and "shakes like jelly," says University of Miami geologist Tim Dixon.
A tsunami of up to 3 metres could hit Japan's Pacific coasts following the massive 8.8-magnitude earthquake that struck central Chile, a government agency official said on Sunday.
It still will be about an hour before officials will be willing to give an all-clear in Hawaii, but there were no immediate reports of major damage around the Pacific rim.

Gerard Fryer, a geophysicist for the tsunami center, defended the decision to urge evacuations of coastal areas, saying "better safe than sorry."
A tsunami triggered by an earthquake in Chile has swept ashore in Hawaii. The extent of the damage was not immediately clear. But the initial waves did not appear to be serious, looking more like an extreme fluctuation in the tide than a giant tsunami.

The wave began affecting Hilo Bay on the Big Island just before noon local time. Water began pulling away from shore, exposing reefs and sending dark streaks of muddy, sandy water offshore. Water later washed over Coconut Island, a small park off the coast of Hilo.
I am sitting in a walmart in hilo hawaii. i just tried to get to the airport but they have closed it as its very close to the coast. the police have blocked off all beach access. downtown hilo is closed and being cleared. they have shut off all the water on the coast and have asked people to conserve what they have...
• May 22, 1960: A magnitude 9.5 earthquake in southern Chile and ensuing tsunami killed at least 1,716 people.

• March 27, 1964: A magnitude 9.2 quake in Prince William Sound, Alaska, and ensuing tsunami killed 128 people.

• Dec. 26, 2004: A magnitude 9.1 quake off the Indonesian island of Sumatra triggered a tsunami that killed 226,000 people in 12 countries, including 165,700 in Indonesia and 35,400 in Sri Lanka.

• Aug. 13, 1868: A magnitude 9.0 quake in Arica, Peru (now Chile) generated catastrophic tsunamis; more than 25,000 people were killed in South America.

• Jan. 26, 1700: A magnitude 9.0 quake shakes Northern California, Oregon, Washington and British Colombia and triggers tsunami that damages villages in Japan.

• Nov. 4, 1952: A magnitude 9.0 quake in Kamchatka causes damage but no reported deaths, despite setting off 30-foot (9.1-meter) waves in Hawaii.

• Jan. 31, 1906: A magnitude 8.8 quake off the coast of Ecuador and Colombia generated a tsunami that killed at least 500 people.
My husband and I are on the 30th floor of the Sheraton Waikiki in Honolulu on Oahu awaiting the expected 1137am tsunami surge. We're on vacation and got the first flight out of Maui this morning (just as the sirens were beginning). There are about 250 people up here. Most other hotels on the beach evacuated. Hotel staff just handed out playing cards.
THIS BULLETIN APPLIES TO AREAS WITHIN AND BORDERING THE PACIFIC
OCEAN AND ADJACENT SEAS...EXCEPT ALASKA...BRITISH COLUMBIA...
WASHINGTON...OREGON AND CALIFORNIA.

A TSUNAMI WARNING IS IN EFFECT FOR

CHILE / PERU / ECUADOR / COLOMBIA / ANTARCTICA / PANAMA /
COSTA RICA / NICARAGUA / PITCAIRN / HONDURAS / EL SALVADOR /
GUATEMALA / FR. POLYNESIA / MEXICO / COOK ISLANDS / KIRIBATI /
KERMADEC IS / NIUE / NEW ZEALAND / TONGA / AMERICAN SAMOA /
SAMOA / JARVIS IS. / WALLIS-FUTUNA / TOKELAU / FIJI /
AUSTRALIA / HAWAII / PALMYRA IS. / TUVALU / VANUATU /
HOWLAND-BAKER / NEW CALEDONIA / JOHNSTON IS. / SOLOMON IS. /
NAURU / MARSHALL IS. / MIDWAY IS. / KOSRAE / PAPUA NEW GUINEA /
POHNPEI / WAKE IS. / CHUUK / RUSSIA / MARCUS IS. / INDONESIA /
N. MARIANAS / GUAM / YAP / BELAU / JAPAN / PHILIPPINES /
CHINESE TAIPEI
AP report on Obama's statement:
President Barack Obama says the U.S. is preparing for a tsunami that could reach American shores and he wants people in Hawaii, American Samoa and Guam to follow the instructions of local authorities.[...]

Obama also is encouraging people along the West Coast to be prepared for the possibility of dangerous waves and currents.

The president says the U.S. is ready Chile with rescue and recovery efforts. He says the U.S. has resources that are in position to deploy should the Chilean government ask for U.S. assistance.
1:55 PM ET -- Info charts from the West Coast and Alaska Tsunami Warning Center.
This first one shows what the NOAA web site refers to as a "preliminary forecast model energy map," which illustrates the potential tsunami impact zone.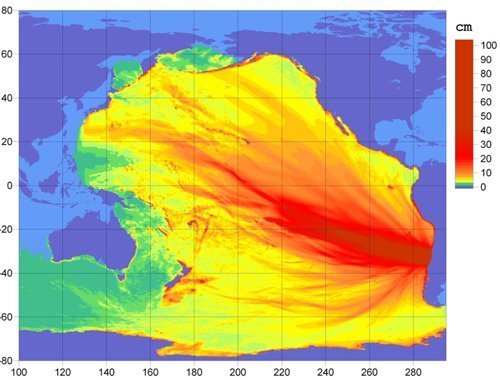 This second one shows the projected tsunami travel times following this morning's earthquake in Chile.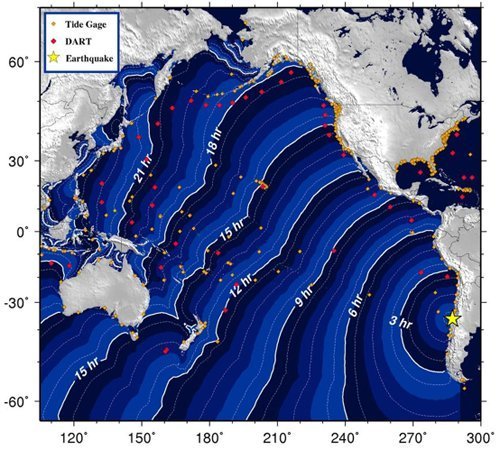 1:25 PM ET -- Reporter's first person account of Chile quake. TIME's Eben Harrell was in Santiago when the earthquake struck this morning. He filed a dispatch for the magazine about his experience. Read it here. An excerpt:
The city was plunged into darkness, but there was a general sense of calm. Within minutes, the traffic signals began to function again and traffic flowed normally. Several people, upon seeing me -- a clueless-looking tourist -- puzzling over a map, stopped to offer their assistance. One young man simply stopped, put his hand on my shoulder and smiled as he said, in heavily accented English, "Welcome to Chile."
1:20 PM ET -- Tsunami videos. We've pulled together a collection here.
1:!5 PM ET -- Photo gallery of the quake. Here's one from Yahoo News.
1:10 PM ET -- Obama to make statement at 2pm. President will speak from the White House about the earthquake and tsunamis.
12:55 PM ET -- More video of the earthquake aftermath. Raw video from Reuters:
12:52 PM ET -- Earthquake aftershock count. Chile hit by number 34.
12:50 PM ET -- Earthquake data chart. An interesting look at the earthquake data, uploaded to flickr by Nick Bilton. See full size here.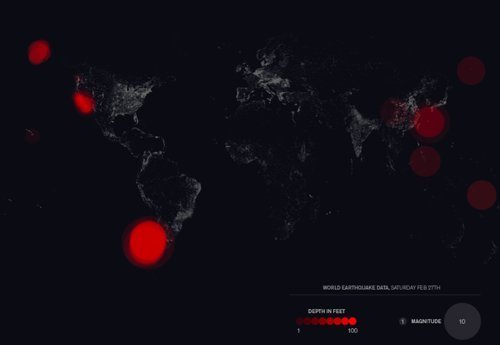 11:55 AM ET -- 'The TV went flying'. AP speaks to an American tourist in Chile who describes the experience of being woken up by the quake.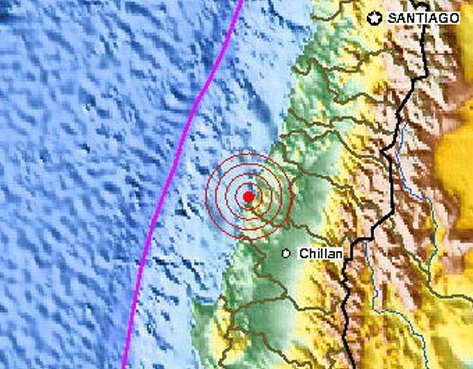 Americans in #Chile who need assistance should contact local authorities or US Embassy in Santiago (330-3476, email santiagoamcit@state.gov)
If you are concerned about a U.S. citizen in #Chile & have not been able to contact them email Chile Task Force: ChileEarthquake@state.gov
CHILE / PERU / ECUADOR / COLOMBIA / ANTARCTICA / PANAMA /
COSTA RICA / NICARAGUA / PITCAIRN / HONDURAS / EL SALVADOR /
GUATEMALA / FR. POLYNESIA / MEXICO / COOK ISLANDS / KIRIBATI /
KERMADEC IS / NIUE / NEW ZEALAND / TONGA / AMERICAN SAMOA /
SAMOA / JARVIS IS. / WALLIS-FUTUNA / TOKELAU / FIJI /
AUSTRALIA / HAWAII / PALMYRA IS. / TUVALU / VANUATU /
HOWLAND-BAKER / NEW CALEDONIA / JOHNSTON IS. / SOLOMON IS. /
NAURU / MARSHALL IS. / MIDWAY IS. / KOSRAE / PAPUA NEW GUINEA /
POHNPEI / WAKE IS. / CHUUK / RUSSIA / MARCUS IS. / INDONESIA /
N. MARIANAS / GUAM / YAP / BELAU / JAPAN / PHILIPPINES /
CHINESE TAIPEI
Phone lines were down in Concepcion as of 7:30 a.m. and no reports were coming out of that area. The quake in Chile was 1,000 times more powerful than the magnitude 7.0 earthquake that caused widespread damage in Haiti on Jan 12, killing at least 230,000, earthquake experts reported on CNN International.
SANTIAGO, Chile - A massive 8.8-magnitude earthquake struck Chile early Saturday, collapsing buildings, killing at least 16 people and downing phone lines. President Michele Bachelet declared a "state of catastrophe" in central Chile and said the death toll was rising.

Tsunami warnings were issued over a wide area, including South America, Hawaii, Australia and New Zealand, Japan, the Philippines, Russia and many Pacific islands.

"We have had a huge earthquake, with some aftershocks," Bachelet said, appealing from an emergency response center for Chileans to remain calm. "Despite this, the system is
functioning. People should remain calm. We're doing everything we can with all the forces we have. Any information we will share immediately."

Bachelet said early reports were that 16 people had been killed, and "without a doubt, with an earthquake of this magnitude, there will be more deaths."

In the 2 1/2 hours following the 90-second quake, the U.S. Geological Survey reported 11 aftershocks, of which five measured 6.0 or above.

She urged people to avoid traveling in the dark, since traffic lights are down, to avoid causing more fatalities.

The quake hit 200 miles (325 kilometers) southwest of the capital, Santiago, at a depth of 22 miles (35 kilometers) at 3:34 a.m. (0634 GMT; 1:34 a.m. EST), the U.S. Geological Survey reported.

The epicenter was just 70 miles (115 kilometers) from Concepcion, Chile's second-largest city, where more than 200,000 people live along the Bio Bio river, and 60 miles from the ski town of Chillan, a gateway to Andean ski resorts that was destroyed in a 1939 earthquake.

In Santiago, the capital, modern buildings are built to withstand earthquakes, but many older ones were heavily damaged, including the Nuestra Senora de la Providencia church, whose bell tower collapsed. An apartment building's two-level parking lot also flattened onto the ground floor, smashing about 50 cars whose alarms and horns rang incessantly. A bridge just outside the capital also collapsed, and at least one car flipped upside down.

In the coastal city of Vina del Mar, the earthquake struck just as people were leaving a disco, Julio Alvarez told Radio Cooperativa in Santiago. "It was very bad, people were screaming, some people were running, others appeared paralyzed. I was one of them."

Bachelet said she was declaring a "state of catastrophe" in 3 central regions of the country, and that while emergency responders were waiting for first light to get details, it was evident that damage was extensive.
Local radio said 17 people were killed and President Michelle Bachelet confirmed six deaths, saying more were possible. Telephone and power lines were down, making a quick damage assessment difficult in the early morning darkness.

"Never in my life have I experienced a quake like this, it's like the end of the world," one man told local television from the city of Temuco, where the quake damaged buildings and forced staff to evacuate the regional hospital.
President Michelle Bachelet said six people were killed and that more deaths were possible. Telephone and power lines were down, making a quick assessment of the damage difficult in the early morning darkness.
SUBSCRIBE TO & FOLLOW WORLD POST