Pat Quinn Gets Tough Question From Berwyn Child: 'Why Don't You Pay Your Bills?' (VIDEO)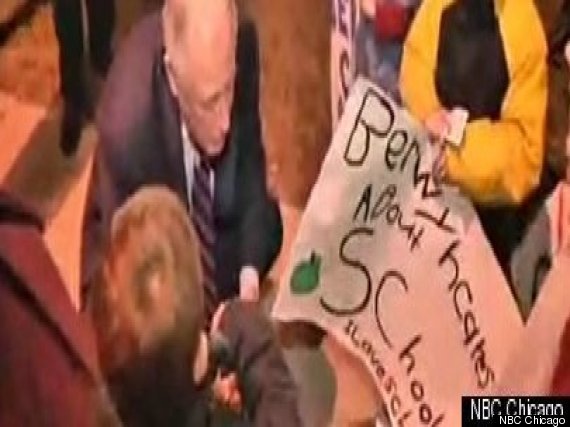 Gov. Pat Quinn visited a school in west suburban Berwyn Thursday night where he was greeted with children and parents holding signs that read "Governor Quinn, Help My School!"
Local school districts are owed more than $725 million from the badly in debt state--and one Berwyn child wanted to know why.
"Why don't you pay your bills?" the child asked Quinn as he met with protesters outside Morton High School District 201, which may be forced to cut programs due to the lack of funds, NBC Chicago reports.

The crowd laughed--and Quinn replied "I tell you we're trying to get the money to pay the bills."
Quinn is trying to get money for the bills, as he stated in his Wednesday budget address, and NBC reports that he is touring education facilities throughout the state to sell his tax hike--which he says would save state schools from $1.3 billion in cuts.
Though Quinn said the cuts would be "unavoidable" without a tax hike, Republicans think he is bluffing and Democrats fear raising taxes in an election year.
Quinn heads to Andrew Jackson Language Academy in Chicago on Friday.
Watch NBC Chicago's video of Quinn's tough question here: