A photograph of French First Lady Carla Bruni pantsless and bending over is set to hit the auction block at Phillips de Pury in London tomorrow, Page Six reports. The image, shot by Helmut Newton in 1992, is valued at up to $7,500.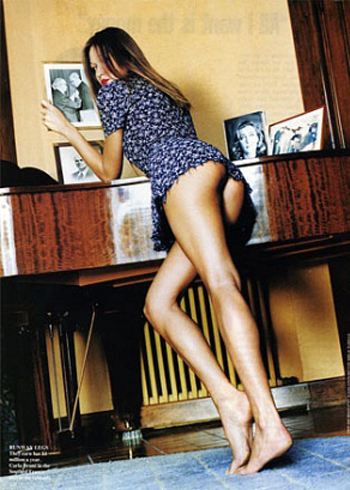 Newton shot this photograph for the November 1992 issue of Vanity Fair, which we're guessing is the pic to be auctioned.
The auction, entitled "Sex," aims to "advance the conversation on contemporary art, sexuality and the interplay between them in presenting works that challenge our concepts of desirability, gender and the way we consume sexual imagery," according to Phillips de Pury's website. All attendees must be over 18 years old.
Last November, a Carla Bruni nude photo was pulled from a Paris auction due to low bids, but in June 2009 a revealing pic of the former supermodel sold for $19,600 in Berlin.