Taco lovers went toe-to-toe last night at Barrio Mexican restaurant. The Park Slope eatery hosted a hard-fought taco-eating contest in which the winner took home a $100 gift certificate.
The eight participants, each of whom paid $19 for the opportunity to prove their taco-eating prowess, were seated at a long table in a side area of the restaurant. The seven men and one woman had a lively cheering section, complete with waving signs and chanting enthusiasts.
This was the first time Barrio has held this kind of contest. Spencer Rothschild, the restaurants owner, explained that it grew out of the weekly "Monday Madness" events the restaurant offers, in which visitors get all-they-can-eat tacos and all-they-can-drink sangria.
"We would have people eating all these tacos, and got to wondering, 'What is the most someone could eat?' So we thought we'd see what people could do," said Rothschild.
Barrio patron Alex Garcia (reputed as the man who has eaten the most tacos at a Monday Madness day) was brought out to judge the contest. A massive tray of about 20 tacos plus a large bowl of rice and beans were brought to each contestant as Garcia explained that contestants had to eat as much as they could as quickly as they could and the first person to clean their tray would stand up to declare victory.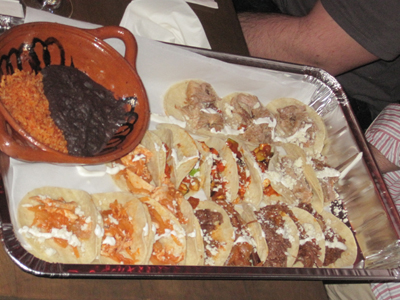 "You can drink as much water as you like," he added. "But I don't recommend you fill up on it."
With that, the competition got underway. It was fairly evenly matched during the first few minutes, with only a difference in style--one contestant shoveled taco filling into his mouth while using his white t-shirt as a napkin, while another slowly consumed his, with apparently little concern that the clock was running.
But it soon became apparent that there were a couple contestants charging ahead, and only minutes after the game started, Manhattan native Alex Cota stood up to declare victory. Cota, who moved through his tacos quickly but with focus, explained that he found going from the lightest kinds of tacos to the heaviest (vegetable, to chicken, to beef and pork) worked best and that the beans and rice were surprisingly easy to get down at the end.
Asked if he had any training strategies to prepare for the competition he offered, "I had a salad for lunch and worked out today, so that should give me a good appetite."

FOLLOW HUFFPOST