Pope Slams Irish Church Over Sex Abuse Scandal, But No Mention of Vatican Responsibility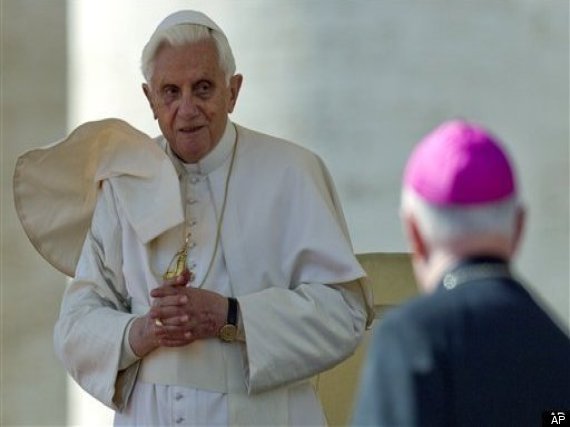 DUBLIN — Pope Benedict XVI's unprecedented letter to Ireland apologizing for chronic child abuse within the Catholic Church failed Saturday to calm the anger of many victims, who accused the Vatican of ducking its own responsibility in promoting a worldwide culture of cover-up.
Benedict's message – the product of weeks of consultation with Irish bishops, who read it aloud at Masses across this predominantly Catholic nation – rebuked Ireland's church leaders for "grave errors of judgment" in failing to observe the church's secretive canon laws.
The pope, who himself stands accused of approving the transfer of an accused priest for treatment rather than informing German police during his 1977-82 term as Munich archbishop, suggested that child-abusing priests could have been expelled quickly had Irish bishops applied the church's own laws correctly. He pledged a church inspection of unspecified dioceses and orders in Ireland to ensure their child-protection policies were effective.
He also appealed to priests still harboring sins of child molestation to confess.
"Openly acknowledge your guilt, submit yourselves to the demands of justice, but do not despair of God's mercy," he wrote.
But Benedict offered no endorsement of three official Irish investigations that found the church leadership to blame for the scale and longevity of abuse heaped on Irish children throughout the 20th century.
The Vatican refused to cooperate with those 2001-09 probes into the Dublin Archdiocese, the rural Ferns diocese and Ireland's defunct network of workhouse-style dormitory schools for the Irish poor.
The investigations, directed by senior Irish judges and lawyers, ruled that Catholic leaders protected the church's reputation from scandal at the expense of children – and began passing their first abuse reports to police in 1996 only after victims began to sue the church.
Nor did Benedict's letter mention recent revelations of abuse cover-ups in a growing list of European nations, particularly his German homeland, where more than 300 claimants this year have alleged abuse in Catholic schools and a choir long run by the pope's brother.
In the latest development, the leader of the German Bishops Conference apologized Saturday for failing to protect children adequately from a pedophile priest in the early 1990s in his diocese of Freiburg. Archbishop Robert Zollitsch, who was in charge of human resources and staffing at the time, said he should have done more to investigate the priest, who was forced into retirement in 1991 and committed suicide four years later when fresh complaints arose.
Rights campaigners in Ireland and abroad forecast that more victims in more nations will keep coming forward and opening new fronts of criticism, because the pope's promotion of secretive canon laws remains at the heart of an unsolved problem.
"We know this policy of secrecy was worldwide. The more that victims speak out, the more the scandals will spread," said Marie Collins, who was repeatedly raped by a Dublin priest while aged 13 and hospitalized in 1960. Her attacker wasn't removed from the priesthood and imprisoned until 1997.
While a cardinal at the Vatican, Joseph Ratzinger, now the pope, wrote a 2001 letter instructing bishops worldwide to report all cases of abuse to his office and keep church investigations secret under threat of excommunication. The Vatican insists the secrecy rules serve only to protect the integrity of the church's investigations, and should not be taken to mean the church should not tell police of their members' crimes.
But victims' advocates in Ireland and the United States said the pope again failed to make it clear whether the church considers the secular law a higher priority than canon law when seeking to stop a pedophile priest.
"The letter's underlying goal seems to have been to appease the outrage while keeping the church in control of its incriminating information," said Terry McKiernan, president of a Web-based pressure group, BishopAccountability.org, that chronicles Catholic abuse scandals worldwide.
"He should have demanded that the bishops release all pertinent files and other information about all credibly accused priests. He should have demanded that every complicit official be named publicly and forced to resign," McKiernan said.
Irish victims' leaders are seeking the resignations of any bishops who transferred pedophile priests to new parishes rather than report them to police – a demand that, if applied, would likely claim the majority of Ireland's 27 bishops, given their failure to tell police of any crimes until 1996. But the pope has yet to accept even the three-month-old resignations offered by three Irish bishops linked to Dublin Archdiocese cover-ups.
The Vatican's chief spokesman, the Rev. Federico Lombardi, said the pope's letter contained no punitive provisions because it was pastoral, not administrative or disciplinary in nature. He said any decisions concerning resignations would be taken by the competent Vatican offices.
Benedict faulted the Irish bishops for failing "sometimes grievously" to apply the church's own laws requiring child-abusing priests to be removed from the priesthood. But he didn't rebuke them for failing to report abuse to police, saying instead they must prevent future abuse and "continue to cooperate with civil authorities."
He also repeated an excuse for the bishops' inaction that has been rejected by the Irish investigations – that they didn't understand the scale or criminality of child abuse until recent years.
"I recognize how difficult it was to grasp the extent and complexity of the problem, to obtain reliable information and to make the right decisions in the light of conflicting expert advice," Benedict wrote in remarks addressed to the Irish bishops.
However, the Irish investigators forced the church to hand over its copious files on abuse cases dating back to the 1950s. They unearthed a paper trail confirming the Irish bishops' successful acquisition of group liability insurance in the 1980s, a decade before the deluge of lawsuits. And they found cases where Catholic officials in the 1960s reported school employees to police for abusing children, showing they understood even then it was a crime.
Andrew Madden, a former Dublin altar boy who in 1995 became Ireland's first pedophile-priest victim to go public with a lawsuit against the church, said the pope had missed the whole point of a meaningful apology.
"I don't need the pope to apologize for the child abusers. I, and untold thousands of victims like me, needed the pope to apologize for the church hierarchy's role in choosing to protect the abusers at the expense of children. That's the real scandal, and the pope has been involved in that. He's not an innocent bystander," Madden said.
Massgoers arriving Saturday at central Dublin churches and in Armagh, the ecclesiastical capital of Ireland, were greeted with piles of the pope's letter. Some lauded its readability and frank tone.
"I thought it was lovely. I thought it was very moving, and I hope it brings some help to all the victims," said one Armagh worshipper, Annette O'Hara. "They're the ones we should be praying for."
But outside a Dublin church, truck driver Tomas O'Reilly said he doubted the pope's sincerity and was unhappy with putting money in the collection plate. "I don't want to be paying the church's legal bills. They've only themselves to blame," he said.
At the Vatican, Lombardi was peppered with questions about why Benedict didn't directly address the German scandal or take the opportunity in the letter to make a more sweeping commentary on the global dimensions of the scandal.
Lombardi said the Irish scandal was unique in its scope, but said the pope's letter could be read to apply to other countries and cases.
"You can't talk about the entire world every time," he said. "It risks becoming banal."
___
Associated Press Writers Nicole Winfield and Victor Simpson in Rome contributed to this report.
___ On the Net:
Saturday's papal letter and Irish church response, http://www.catholicbishops.ie/
Vatican's video presentation of letter, http://www.youtube.com/watch?v0Ri_1UJuh88
May 2009 report on Irish institutions for children, http://www.childabusecommission.ie/
November 2009 report on Dublin priests, http://www.justice.ie/en/JELR/Pages/PB09000504
Copyright 2014 The Local Paper. All rights reserved. This material may not be published, broadcast, rewritten or redistributed.