Lady Gaga is so popular that she belongs to a club of one--herself.
According to online analytics company Visible Measures, Lady Gaga has made internet history by racking up more than 1 billion total views for just three of her music videos posted online.
The company maintains a list that it calls "The 100 Million Views Club." It's populated by "franchises" and online videos that have achieved at least 100 million views and according to the Visible Measures, Gaga is the first to join the "The Billion Views Club."
The firm reports that the total number of views for for Gaga's music videos "Poker Face" (374,606,128 views), "Bad Romance" (360,020,327) and "Just Dance" (272,941,674) make her the "most watched franchise in history." According to Visible Measures, the "Twilight" series isn't far behind and boasts 980 million views.
According to a December 2009 blog post by TechCrunch, Visible Measures tracks plays on Youtube, social networking sites, MTV networks and Viacom to formulate its estimates.
Other performers and videos that have garnered huge amounts of online views include Souljaboy, Beyonce, and Michael Jackson. A screengrab of the company's top-10 on the "100 Million Club" list is posted below.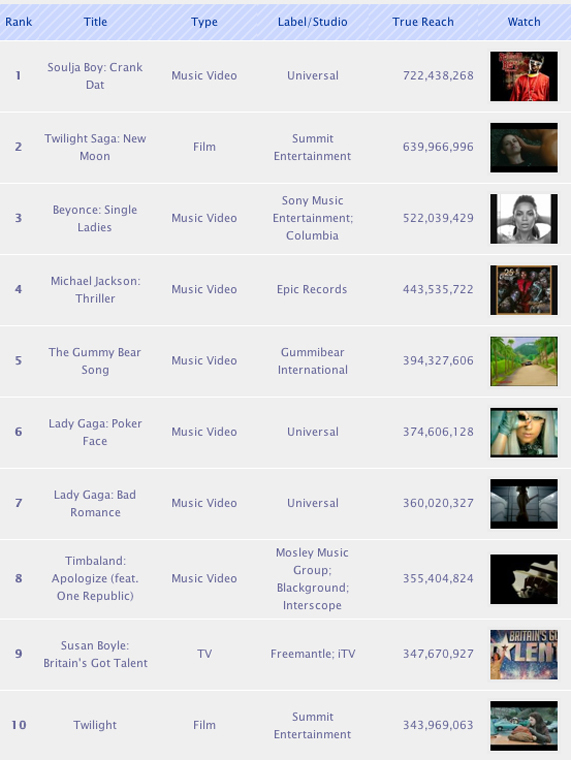 SUBSCRIBE TO & FOLLOW THE MORNING EMAIL
The Morning Email helps you start your workday with everything you need to know: breaking news, entertainment and a dash of fun. Learn more