Nero Palace Collapse: Domus Aurea Suffers Reported Damage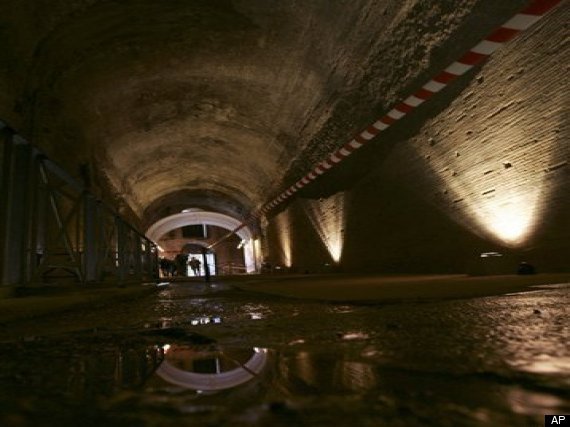 ROME — A huge chunk of a 2,000-year-old gallery in the complex including Emperor Nero's fabled Golden Palace collapsed on Tuesday, Rome's art officials said.
Firefighters searched the area, but found no victims, leading officials to say they believed nobody was inside when the structure collapsed around 10 a.m. Nero's nearby Palace had been closed as workers were doing repairs.
The sumptuous palace – built by the infamous Roman emperor Nero in the 1st century A.D. – is known to many by its Latin name Domus Aurea. With its frescoed halls and gold-encrusted ceilings, it was meant as a fabled residence for one of Rome's most depraved emperors.
About 60-80 square meters (645-860 square feet) of vault ceiling in one of the galleries crumpled beneath a garden frequented by tourists and passers-by.
Though heavy rains in recent months may have contributed to the collapse, they would not have been the main cause, said Umberto Broccoli of Rome's artistic superintendence.
"There are 1,900 years of history," Broccoli said. "Two months of rain are not responsible for this. It would have happened anyway."
Officials suggested tree roots may also have contributed, having grown through the earth above the gallery.
Broccoli said the main part of the palace was unscathed, but there was damage also to another gallery built after Nero by Emperor Hadrian.
It was one of the area's biggest collapses in 50 years, art official Antonello Vodret said, according to the Apcom news agency.
The incident rekindled doubts over the stability of the site, which was shut down for 18 years until 1999 over structural concerns, which still at times force temporary closures. Water infiltration is another problem.
The palace originally sprawled across nearly 200 acres (80 hectares) and occupied parts of four of Rome's seven ancient hills.
Nero himself did not enjoy it for very long, as it was completed in A.D. 68, the same year he committed suicide.
For centuries the complex lay under a hill before coming to light 500 years ago when Renaissance scholars began researching the imperial period.
Officials pledged to begin restoring the palace this week, and estimated it would cost euro800,000 ($1 million) and take one year.
"This is a small episode which indicates that the great cultural heritage of this country needs some attention and love," Rome archaeological official Roberto Cecchi said.
___
Associated Press Writer Elisa Bailey in Rome contributed to this report.
Copyright 2014 The Local Paper. All rights reserved. This material may not be published, broadcast, rewritten or redistributed.