iPad Lines Go WILD (PICTURES): Send Us Your PHOTOS!
Today marks the official release of the iPad, and already, the iPad lines are growing at Apple Stores.
The Boston Globe writes, "For some, waiting in line adds to the iPadís appeal."
We've got some initial pictures of iPad lines outside the flagship Apple Store on Fifth Avenue in New York City (one man has been there since Tuesday), but we want to see yours!
Have you been waiting outside an Apple Store? Or a Best Buy, which is also selling the iPad? Send us photos of the lines, the excitement, and the scene!
If you're debating whether or not to join the fray, check out our guide to '13 Things You Need To Know About The iPad,' the '9 Worst Things About The iPad,' or our comprehensive review round-up. See our selection of 'iPad Killers'--alternatives to the iPad--here.
Send us your pictures of the iPad fever at the Apple Stores--people in line, people unboxing their iPads, and more!
iPad Lines
Find a picture, click the participate button, add a title and upload your picture
Fifth Avenue Apple Store, New York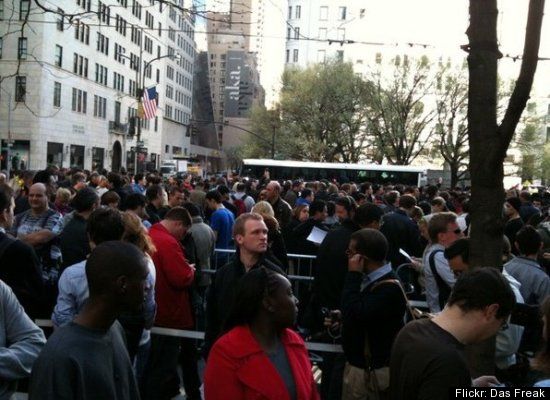 Total comments:
63
|
Post a Comment