In a conversation with receptionist Brian Dochney published on their website, Brooklyn Brewery brewmaster Garrett Oliver gave his thoughts on the KFC Double Down, and offered his suggestion for what to pair with such a creation:
RBD: If this year's Brewery Holiday party is held in a KFC (as we all wish it was) would you try it even then?

BGO: Ummm....no. The point, we hope, of the holidays, is for us to be happy and healthy. As opposed to unhealthy and suicidal. The Double Down reminds of that routine by Patton Oswalt where he describes a fast food dish as "a sadness pile in a failure bowl." Only with the Double Down, you don't even get to eat the failure bowl. It's replaced by depression paper.

RBD: We're going to a fine dining establishment, they have a specialty of the day, a Double Down is placed on your plate. Do you leave? Facebook about it? Re-examine your life choices?

BGO: I go talk to the chef, asking him plaintively "is this some ghastly new form of sous vide"?

RBD: The big one -- What do we pair beer wise, with such a behemoth of taste and proportions?

BGO: Colt 45 with a dissolved Pepcid AC. It works every time.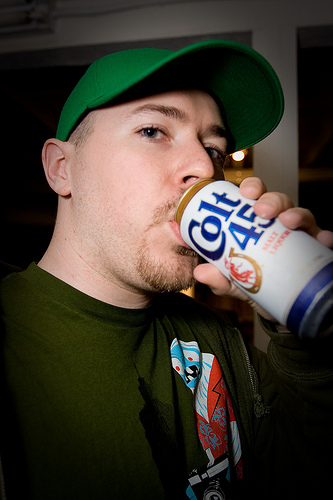 Photo from Flickr: pinguino
Further obligatory HuffPost Food coverage of the Double Down here.
SUBSCRIBE TO & FOLLOW THE MORNING EMAIL
Start your workday the right way with the news that matters most. Learn more