Lauren Hutton was one of the most widely-recognized models in the '60s and '70s. But when she was approached by Mary-Kate and Ashley Olsen several years ago to pose for their fashion line The Row, she wasn't so sure how to get back in the game. She told the L.A. Times:
They were 21, and they were starting out this thing called the Row. And I saw the clothes, and they were wonderful, real simple, minimalist designs. And they asked me if I would do this look book. And I think at that time I was 63, and I thought, "That's cool." They wanted me to move around, and I said, "I don't model anymore, and it's an art. So you have to help me." Ash had a place on the beach, so we did it at her place. And both of them would dance, we had this music piping out, and I was in this studio on the beach with good light. And they would dance on the deck, and I would do what they were doing. And it was good.
Here's the photo that came of it: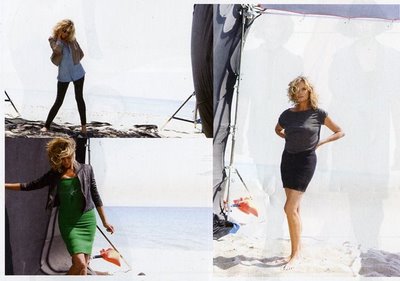 SUBSCRIBE AND FOLLOW
Get top stories and blog posts emailed to me each day. Newsletters may offer personalized content or advertisements.
Learn more