First YouTube Video EVER Celebrates Its 5th Anniversary: Send Us Your Favorite Videos!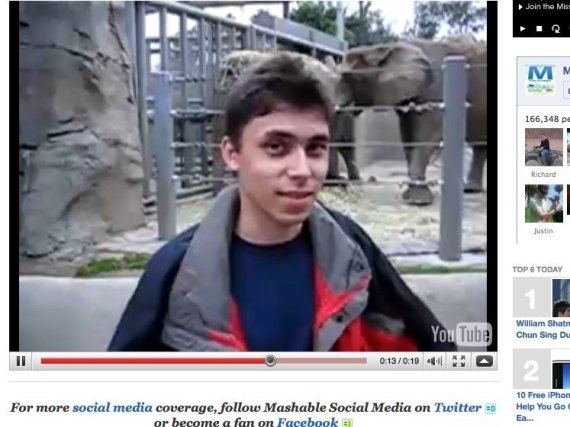 It's been a landmark week: we celebrated the 40th anniversary of Earth Day, the 50th anniversary of the birth control pill, and the 20th anniversary of the Hubble Telescope.
April 23 marks a lesser known, but nonetheless important, event: the fifth anniversary of the first video uploaded to YouTube.
YouTube was founded February 14, 2005, but the first video to hit the site--a 19 second clip of YouTube cofounder Jawed Karim at the San Diego zoo--didn't come until April 23, 2005.
Check out the first-ever YouTube video below, then we want to hear from you: What is your favorite YouTube video ever? And why?
What is your favorite YouTube video? Share it with us and we'll feature it on HuffPostTech!
Your Favorite YouTube Video
Click participate, upload a link to the YouTube video (or the embed code for the video), then click submit! Feel free to include a description of why you love the video, if you'd like.
WATCH: (via Mashable)