Miner Dies At Pocahontas Coal Mine Listed By Rep. George Miller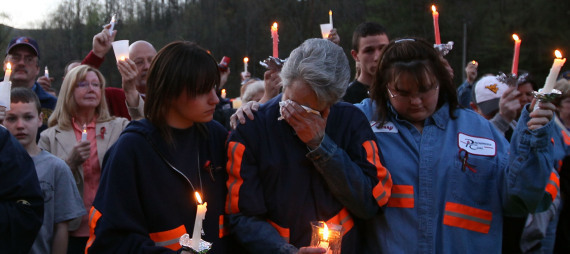 A West Virginia man has died after being pinned against the wall of a coal mine, reports WOWKTV.
According to an official with West Virginia Office of Miner's Health, Safety and Training, the victim was caught between a continuous mining machine and the wall of the Pocahontas coal mine in Beckley, West Virginia.
Pocahontas is one of 48 mining operations who avoided greater scrutiny from the government by contesting safety violations filed against it, according to a recent list (PDF) released by Rep. George Miller (D-Calif.)
The Pocahontas coal mine is owned by ICG, the same company that owned the Sago mine where 12 workers were killed in an underground explosion in 2006.
The name of the 28-year-old victim has not been released, according to The Associated Press. But the state would say that he was married with children.
Thursday's accident comes just weeks after an underground explosion killed 29 at West Virginia's Upper Big Branch coal mine.
UPDATE: Rep. Miller has released a statement about the death at Pocahontas mine:

"I am deeply saddened by yet another coal miner's death. It is especially troubling that this death occurred at a mine that we knew posed a danger to miners. The 48 mines identified publicly last week by this committee continue to pose a danger to our nation's miners. The fact is that a mine that has a pattern of safety problems indicates a dangerous workplace. Tragically, we have had to learn that lesson again today.

"Indiscriminate mine owner appeals are letting some of the most dangerous mines to escape tougher penalties and heightened scrutiny. The Obama administration and Congress must correct this problem and correct it now. Mine operators must be held accountable to the highest standard for protecting the safety and health of America's hard-working miners. We must start clearing this backlog up immediately."
Subscribe to the HuffPost Hill newsletter!