Obarbecue! Obamas Grab Ribs In North Carolina (PHOTOS)
President Obama and the First Lady made a surprise visit to 12 Bones smokehouse in Asheville, North Carolina this afternoon, which had seen another surprise visit from then-candidate Obama in October 2008. (12 Bones appears to be well-liked by most.)
The Obama mingled with customers and staff, posed for photos and eventually ordered two rib plates, and given order number 99. From the pool report, the precise order per Bill Burton was:
Ribs, greens, baked beans, corn pudding, mac & cheese and corn bread. All washed down with a couple of sweet teas.
About those ribs...deputy press sescretary Bill Burton tweeted during the meal:
Plates of ribs here at 12 Bones Smokehouse give new meaning to 'too big to fail'
When the Obamas left 12 Bones, a crowd had gathered on the corner, a few with "Welcome" signs, and a couple that read: "We love Sasha" and "Howdy Malia."
Photos from the drop-in: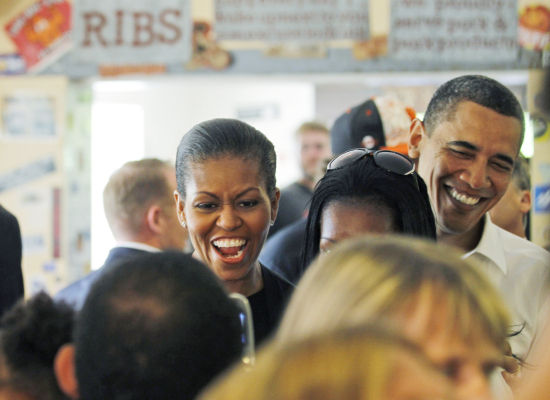 Davyne Dial

said on 24 Saturday 2010 pm30 9:27 pm:


They must have been coached as to what the really good stuff at 12 Bones was...the blueberry chipolte ribs, corn pudding, mac & cheese are about as good as it gets. They arrived for lunch straight from the airport. It's authentic, slow smoked bbq, not the quickie, fake bbq stuff many restaurants try to pawn off as authentic. We're proud as peacocks to have the Obama's choose Asheville for a weekend getaway.
Total comments:
205
|
Post a Comment