IHOP's "Pancake Stackers" will be a limited-time offering through June 20, and consist of: a layer of cheesecake sandwiched between two pancakes, available in strawberry, blueberry, or cinnamon apple, all topped with whipped cream. They will be available a la carte or as part of a combo meal, with eggs, hash browns, plus bacon, porks sausage links, or ham, which will tally up to 1,250 calories -- over twice that of a 540-calorie KFC Double Down.
Said Carolyn O'Keefe, IHOP's senior vice president of marketing, to the AP: "It's an opportunity to give our guests another reason to come into IHOP."
IHOP's "Pancake Stacker":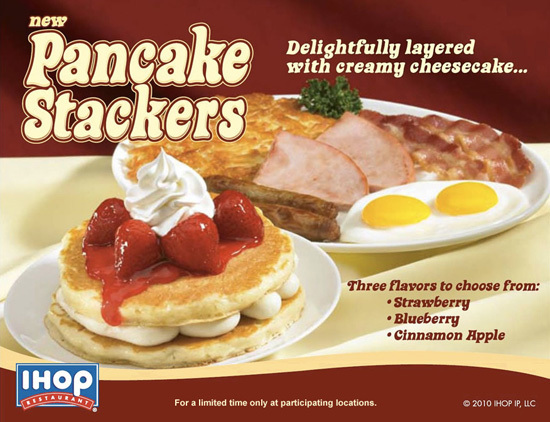 SUBSCRIBE AND FOLLOW
Get top stories and blog posts emailed to me each day. Newsletters may offer personalized content or advertisements.
Learn more