It'll be a tough weekend for some in Colorado who found themselves on the wrong end of the news this week. Below, check out the Huff Post's list of Colorado's losers of the week. Then vote for your pick for the week's biggest loser. Then check out our list of the big winners.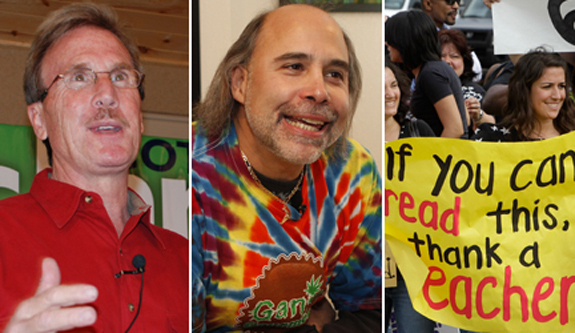 Medical Marijuana:
As House Bill 1284 clears its final legislative hurdles, the bill to regulate the medical marijuana industry looks very little like the model proposed by MMJ advocates before the legislative session, and a lot more like the method proposed by law enforcement groups. Despite the vociferous objections of the medical marijuana community, the Senate has tacked on numerous restrictive amendments to the bill. If the bill passes as expected, dispensaries will remain legal, but municipalities will be able to ban them outright, and would have to undergo criminal background checks. Senator Chris Romer predicts that the new laws will result in the closure of 50% of existing dispensaries. The medical marijuana lobby has stated from the beginning that it invites regulation, and has publicly supported the latest version of the bill. But as the debate enters the home stretch, the industry has backpedaled far more than it has scored concessions.
Colorado Education Association:
The Colorado teachers union wasted no time in throwing all its weight in opposition to Senate Bill 191, the education reform bill that would more closely tie teacher tenure to consistent student progress. After clearing the Senate, the bill passed a critical test this week when it cleared the House Education Committee on a 7-6 vote. As Senator Pat Steadman affirms, SB 191 now looks like a "juggernaut," despite the Colorado Education Association's steadfast opposition. The reform measure seems to be picking up steam despite recent polling, which shows very divided opinion on the bill. This battle, however, is is far from decided. Spurred on by a major victory in Florida when Governor Charlie Crist vetoed a similar law, the National Education Association is revamping its lobby against the measure. Governor Ritter has already publicly supported the SB 191.
It was the second consecutive bad week for GOP Gubernatorial Candidate Scott McInnis. The former Congressman announced that he had spend virtually all of the money that he raised during the first filing period of 2010. Contrast this with his opponent, John Hickenlooper's huge haul, and McInnis's prospects become bleaker.
FOLLOW HUFFPOST