Which Colorado news-makers can take a well-deserved break this weekend after a successful week of coverage? VOTE below for the biggest winner in Colorado news this week. Then check out our list of the biggest losers.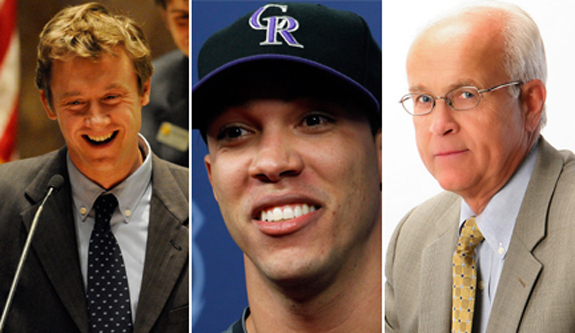 Ubaldo Jimenez:
The Rockies' young right-hander has always possessed tantalizing talent, but this year he seems to be putting it all together, parlaying his 100-MPH fastball into a blazing start. Jimenez is 6-0 (including the Rockies' first ever no-hitter) with an absurdly low .87 ERA. This week, he dominated the Padres for 13 strikeouts in 7 innings, garnering him national attention.
Michael Johnston:
The rookie State Senator from Denver, a rising start in the Democratic party, hitched his name and reputation to an education reform bill that would become one of the session's most controversial pieces of legislation. Luckily for Johnston, the bill has been rolling through the legislature despite vehement opposition from the teachers' union.
Joe Gschwendtner:
The newest Republican in the Governor's race caught the state's attention thanks to his mouthful of a last name (guh-shwent-ner). While few expect the Castle Rock businessman to capture the nomination, he was fortunate to enjoy a soft landing into the race, thanks largely to his unusual name.