Barack Obama, Campaign Manager: How The 2008 Playbook Passed Health Care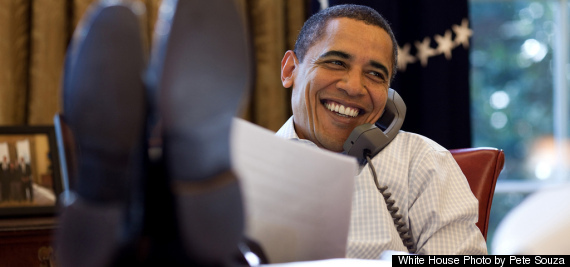 That Obama was not personally involved in those negotiation sessions was by design. To have the president in the room at the time (or to host the meeting in the White House) would be to draw additional heat and attention to a meeting that, officials recognized, needed neither. More than that was concern over the heavy-handed message it would have sent to Senate leadership and the lawmakers at the heart of the dispute.
This too was an approach borrowed from the campaign trail. Throughout his run for the White House, Obama adopted an aura of being above and detached from the everyday drama that accompanied politics. When events conspired against him, he was rarely reactive (sometimes, his supporters thought, to a fault). Often, his defacto response to an individual crisis was to let it run its course.
With health care reform, this meant delegating many key responsibilities. The president would not introduce his own bill (though his staff did write an 800-page proposal that aides were ordered to keep absolutely secret -- "If this gets out, I'll fucking kill you," Emanuel told those in the know). Instead he would give the reins to congressional allies and avoid interjecting unless his help was requested. This left members feeling respected and valued, with a sense of ownership of the process.
It also created a vacuum for steady leadership. Asked to describe the experience of passing health care into law, several months after it happened, Majority Leader Reid drew the analogy of an unevenly flowing river.
"I floated the Colorado once through the Grand Canyon," he explained. "And that's what health care was kind of like. 'Oh, it's so nice,' and then BANG you hit those rapids and it throws you up in the air and 'oh man, I'm glad I'm alive.' That's kind of health care."
Still, the White House knew the pitfalls of having Obama appear heavy-handed. A group of high-ranking aides under Obama (chief among them Emanuel) had front row seats to Bill Clinton's attempt to pass health care reform during his first term in office. And if the memory of that failure had since faded (perhaps deliberately excommunicated from the mind) there were plenty of reminders once Obama decided to take up reform. Aides recalled sobering counsel they received during the early months of 2009 from Paul Begala, the longtime Clinton confidant and energetic cable news presence.
"The worst piece of advice I ever gave," Begala would say, in a pitch that became familiar to Senate staffers and White House aides alike, "was to tell President [Bill] Clinton to wave his pen at Congress in '94 and say 'If you send me legislation that doesn't guarantee universal coverage I'll veto it.' It was one of those things that doomed the Clinton bill. And I carry a great deal of responsibility for that."
For a staff already wary of tackling health care reform in the first place, Begala's confession was like a clarion call. If they were going to move legislation through congress, the president would show the utmost deference to the legislative process. "I think, being candid about it," Begala would recall more than a year later, "it opened up people's ears."
Both Nelson and Lieberman tested this approach, as did progressive allies who routinely begged administration officials to ramp-up Obama's involvement. One top-ranking Democratic operative recalled going to the White House in early June, urging them to deploy the president on hesitant lawmakers. "We are not going to waste his capital now," was the reply she received. Obama would be used to close the deal. "People think he's like Jesus up there [on the Hill]."
The administration was committed to the game plan. And if the campaign had taught the tight-knit Obama crew one lesson, it was to downplay criticism, avoid over-reaction and, above all, project confidence and rationality.
"He respects the legislative process," explained Dunn. "He understands that there are times when you can basically say to Congress 'this is it, this is what I need.' Or you get on the phone with people and say 'No, you have to vote for this.' And there are times when you have to put yourself in the other person's shoes and look at it from their perspective and think about what can make this a better vote or an easier vote for them."
* * * * *

There were notable exceptions. As in the campaign, Obama would put his thumb on the scale during moments of particularly acute crisis. He became the chief recruiter of Sen. Olympia Snowe as she emerged as the one option for a bipartisan bill. Following the contentious August recess, when a wave of town hall protests put the inevitability narrative fully to rest, it was Obama who decided to deliver a major address before a bicameral gathering of Congress. When House progressives were brimming with frustration over the state of health care in the Senate, the president held court with them in the Roosevelt Room for an hour, going through their concerns member by member
"You are going to figure out how to take yes for an answer," Obama would tell members of the Progressive, Black, Hispanic and Asian Pacific American caucuses at that October 30 meeting. "Everyone is going to have to give something up, including me."
But in entering already heated debates, even the cautious and diplomatic Obama found himself occasionally provoking additional anger. Speaker Pelosi, for one, was incensed when the president declared during that bicameral speech that health care reform should cost around $900 billion. She quickly demanded that administration officials come to her office and explain what seemed to be an arbitrary price tag and an implicit endorsement of the Senate's bill.
A more contentious moment came during a gathering of union leaders in mid-January. By that point, the president's preference for a tax on high-cost health care plans was well known. But he had done little to temper labor's protests. The friction was obvious. Not only would the tax hit negotiated union contracts, Obama himself had launched blistering attacks on the proposal when it was part of Sen. John McCain's platform in 2008. (Axelrod would tell associates it was the campaign ad that tested best with voters).
On January 11, the president brought a group of more than a half-dozen union presidents to the White House to remove any lingering doubt. "There will be an excise tax," he declared, according to one attendee.
"I'm committed to doing it," another attendee had him saying. "And I need you guys to be on board."
The crowd wasn't sold. AFL-CIO President Richard Trumka, seated across from the president, shot back that the tax was "bad policy and bad politics" pointing to the percentage of middle-class workers (even the non-unionized) who would be hit. Anna Burger, the executive director of union campaign arm, Change to Win, brought up Deb Lovell, a state worker in New Hampshire and wife of a chronic myelogenous leukemia patient, who despite earning $30,000-a-year salary would see her health care plan taxed under the proposal.
The President conceded that taxing people like Lovell was not the design and promised to look into Burger's point. But he continued pitching the tax as necessary for keeping health care costs under control. "He was persuaded to do health care, I believe, by Peter Orszag [the budget director], not Ted Kennedy [the moralist former Senator]," is how one White House ally put it.
Trumka refused to let the argument go, pushing back on Obama point by point. Several people briefed on what happened said that after the discussion ended other union leaders told Trumka that he came off as "disrespectful" to the president. To which he replied: "If telling him the truth is disrespectful, then I have to be disrespectful."
At an impasse, Obama scheduled a meeting for the next day with the same group. But in this one, his deputies would lead the conversation, and union staffers were not permitted to attend (the White House thought that staffers would expand the conservation to topics beyond the excise tax). This didn't diminish the fireworks. As Jason Furman, the White House economist and excise tax booster, continued to push the proposal, Trumka reached a tipping point.
"Don't fucking bullshit me," he demanded.
And yet, for all the drama, negotiations succeeded. Obama agreed to raise the threshold for which plans the tax would hit and delayed the date for when it would kick in. The labor leaders returned to their members comforted that they could now restructure contracts before they were taxed. But what had compelled them to cut the deal weren't just the policy concessions they'd secured, but also the president prevailing on them the importance of moving forward.
Coming, as it did, so late in the process, Obama's diplomacy was at once refreshing and persuasive. For months the president's team had largely skirted direct engagement, choosing instead to accommodate demands under the guise of advancing a bill. The infamous Cornhusker Kickback to Sen. Ben Nelson was one example. But there were countless others, including explicit messages sent to congressional leaders to give in to Sen. Evan Bayh's (D-Ind.) insistence that a tax on medical device manufacturers be scaled back.
Obama had been criticized during the campaign for a posture that -- while projecting calmness - seemed, at times, disengaged and allowed the opposition to define his candidacy. In process of passing health care reform, those criticism were shouted even louder. But in each case, the narrative changed and the skepticism diminished once the president's involvement was ratcheted up.
"The deciding factor for me was when the president decided he was going to fight like hell for this bill," explained former DNC Chair Howard Dean, a person who once called for the bill to be killed over the lack of a public plan. "The Democrat in me came out and said 'Look, if the president is willing to lead, I'm going to follow. Because this is about politics and I know which team I'm on.'"
Added Pennsylvania Governor Ed Rendell, shortly after health care was passed: "I think [the president] has learned that if things are going to move, he has got to be not only doing the broad brush but he has got to carve out with some specificity the details. They have got to be in the driver's seat, delineating that vision and saying where they want the train to go."
Subscribe to the HuffPost Hill newsletter!