Rick Bayless, the White House's guest chef for last night's Mexico state dinner, took a break from tweeting early yesterday morning before his final day of state dinner preparations, after a Twitter controversy of sorts. Read all about that in the original story, immediately below.
In the last hour, though, Rick Bayless has boldly returned to Twitter with ten, yes, 10, tweets in the span of five minutes clarifying a few points with seven "Truths" and reporting positively and proudly on last night's experience overall. See exactly what he had to say:
Rick Bayless Returns To Twitter
Chicago's Rick Bayless, the White House's guest chef for tonight's Mexico State Dinner, found himself amidst a controversy of sorts, owing to confusion over where his recent State Dinner-related tweeting was coming from.
WASHINGTON--While the White House press operation is trying to downplay the glamour aspect of the Wednesday State Dinner honoring Mexican President Felipe Calderon and his wife, Margarita Zavala and limit coverage, guest chef Rick Bayless, the Chicago cooking superstar, is so big the White House cannot muzzle him and force him into the background. Bayless is going around the White House communications team and twittering from the White House kitchen.

At many White House meetings, participants are ordered to surrender Blackberries and cell phones before entering the room; the rule has not trickled down to the kitchen.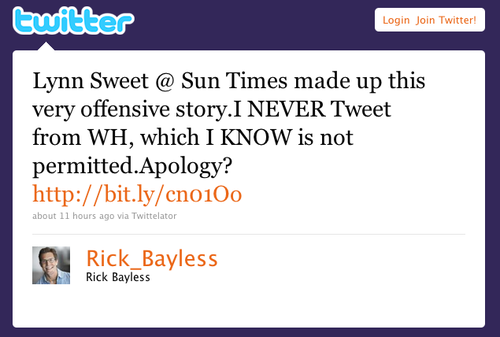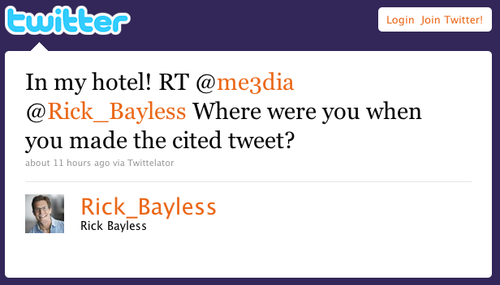 UPDATED FROM TUESDAY VERSION ABOUT RICK BAYLESS GUEST CHEFFING AT THE WHITE HOUSE WITH CLARIFICATION....

Clarification: Bayless at Gapers Block said he did not send his tweets from the White House kitchen. Bayless also sent a tweet out about my post. To clarify: Bayless tweeted about the upcoming dinner and about the White House kitchen, but not from the White House kitchen. My apology.
Bayless apparently received no request from the White House to refrain from tweeting outside the White House, as he's tweeted merrily since the brouhaha, presumably the last we'll hear from him on Twitter until the state dinner is over: