Baby Sea Turtle Is First Rescued From Gulf Oil Spill Slick
NEW ORLEANS (AP) -- Officials say the first sea turtle to be rescued from the Gulf of Mexico oil spill is being cared for in New Orleans.
Audubon Aquarium spokeswoman Meghan Calhoun says the endangered Kemp's ridley turtle was found by a biologist looking for oiled animals in the slick. The turtle that is probably less than a year old arrived in New Orleans Tuesday night.
Calhoun says its shell is about 7 inches long and 6 1/2 inches across.
Calhoun says the turtle has been bathed from the inside of its mouth to the tips of its flippers and stubby tail. It will have several more baths.
More than 150 dead sea turtles have washed ashore in several states since the spill began on April 20. Officials say no oil was found on those turtles and their cause of death isn't known.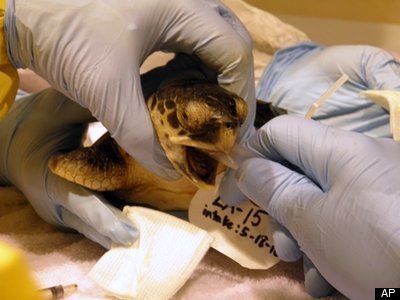 AP: In this Tuesday May 18, 2010 photo provided by the Audubon Aquarium, the first sea turtle rescued from the Gulf of Mexico oil spill _ a baby Kemp's ridley _ gets its mouth washed out shortly after arrival, in New Orleans. The turtle was found about 35 miles from Venice, La. , and was brought by boat and vehicle to New Orleans.