Knowing full well that the Sunday night TV's main attraction was 'Lost,' 'The Simpsons' opened its show with a fake spoiler of the much-ballyhooed finale. On the chalkboard, Bart had written:
"End Of 'Lost': It Was All The Dog's Dream. Watch Us."
Bart's chalkboard has become the frequent home for hidden, topical jokes. In a recent episode, 'Simpsons' writers used it to show solidarity for South Park creators Trey Parker and Matt Stone. (via The Daily What)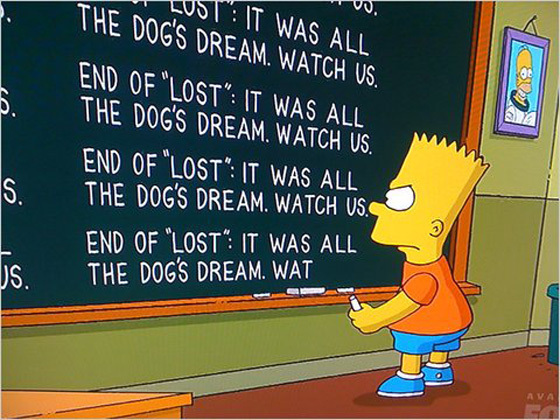 SUBSCRIBE AND FOLLOW
Get top stories and blog posts emailed to me each day. Newsletters may offer personalized content or advertisements.
Learn more