iPad MANIA Hits Europe, Asia
LONDON — Technophiles mobbed Apple Stores in Europe and Asia on Friday in a quest to snatch up the hottest gadget of the moment – the iPad. (See photos below)
Long lines snaked down streets in London, Paris, Frankfurt and Tokyo as eager buyers vied to wield their credit cards. Screams and cheers rose from the crowd in central London as students, professionals and self-proclaimed computer geeks clutched boxes containing the slim black device.
"If I was a music fan, it would be like the launch of a Lady GaGa album in the U.S.," said comedian Stephen Fry, known in Britain as a champion Tweeter.
At the Apple Store in Frankfurt, Germany, hundreds lined up – including a few who arrived as early as 3 a.m. Some said they'd arrived so early not because they wanted to own it first – but simply to get an iPad at all.
By 8 a.m., some 450 people squealed as Apple employees inside lowered a black curtain and began applauding. The glass doors swung open and people who had been given numbered tickets while waiting in line were let in by security to buy the device.
"I'm a bit embarrassed to be part of the masses, but the thing is, tonight it's going to be sold out," one man, who was not identified, told AP Television News.

(Story continues on next page)
Lines, stores, unboxing and more: Do you have photos of the iPad's international launch? Send them to us!
iPad Launch
Find a picture, click the participate button, add a title and upload your picture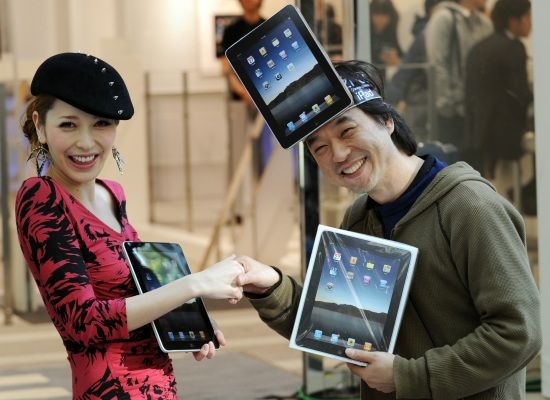 Total comments:
507
|
Post a Comment